Jim Tressel is officially YSU president today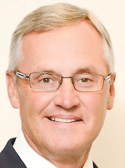 ---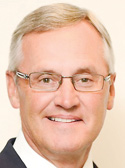 Photo
By Denise Dick
YOUNGSTOWN
Up to now he was acting, but today it's official.
Jim Tressel will spend his first official day as Youngstown State University president, opening up the Pollock House to campus constituencies. He'd been acting president since June 20.
In the morning, YSU faculty, staff and administrators are invited to the university-owned home for breakfast refreshments. Students are invited for a noon cookout, and the afternoon is for members of university boards and foundations.
Ron Cole, a YSU spokesman, said a formal installation ceremony will be scheduled later.
The second floor of the Wick Avenue mansion is the residence of YSU's first couple. The first floor is used for entertaining and university events.
Cassese's MVR, North Walnut Street, is marking the return of Tressel and his wife, Ellen, to campus with half-off Tressel Tortellini.
The popular three-cheese tortellini in a creamy marinara basil sauce has been on the menu since Tressel was the Penguins' head football coach, before he left to coach the Ohio State Buckeyes in 2001.
"Our top-selling pasta dish is Tressel Tortellini," said manager Joe Cassese.
The special runs through today on dine-in orders.
It's a way to give back to loyal customers and to acknowledge "we're excited for the direction he's going to lead us," Cassese said.
He said the restaurant has ordered extra tortellini and will have "a couple extra cooks in the kitchen" in anticipation of people taking advantage of the special.
"We want people to embrace it," Cassese said. "We're ready for the positive change."
Tressel has demonstrated his skills as a leader and as a communicator, he said.
"As a business that's been in Youngstown since 1927, we're aware that his [Tressel's] presence is going to do a lot of good for all of us in the Mahoning Valley," Cassese said.
Tressel is the university's ninth president, but in just the last 13 months, YSU has seen three presidents, two interim presidents and an acting president.
Cynthia E. Anderson, the seventh president, retired June 30, 2013, after three years in office, and Ikram Khawaja, who was YSU's provost and vice president for academic affairs, became interim president until Randy J. Dunn's arrival in mid-July 2013.
Dunn, YSU's eighth president, served only eight months before resigning last March to become president at Southern Illinois University.
Khawaja again became interim president through June 30 when he retired. Tressel, who was selected YSU's ninth president in mid-May, became acting president when Khawaja went on vacation.