Phantoms' Letunov follows in owner's footsteps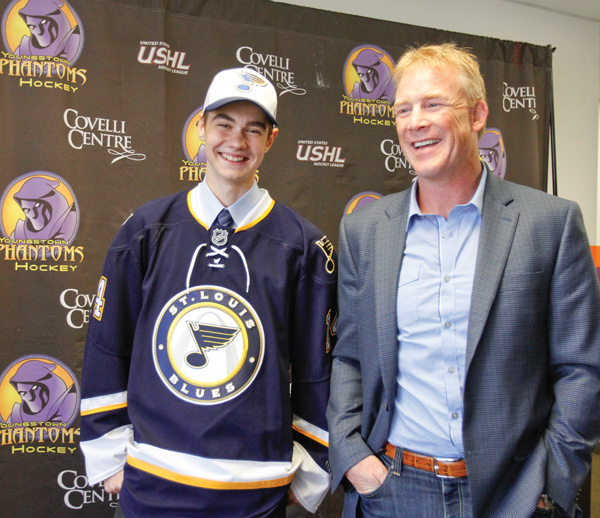 ---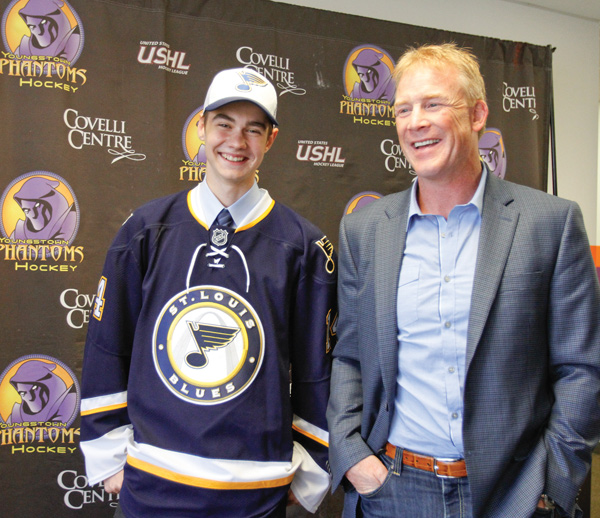 Photo
St. Louis Blues draftee Max Letunov poses with Troy Loney, part owner of the Youngstown Phantoms, during a press conference today at the Covelli Centre.
By Ryan Buck
YOUNGSTOWN
When new Youngstown Phantoms owner and former NHL standout Troy Loney heard from friends and contacts in the business about his team's top NHL draft prospect, Maxim Letunov, the response was quick.
"He's really skilled," said Loney, who won two Stanley Cups with the Pittsburgh Penguins in 1991 and 1992 and now resides outside the city. "They like his skill, they like his vision, they like his passing and those are things you can develop a little bit but it's always there. He's one of those guys."
The St. Louis Blues obviously thought so as they drafted Letunov, a winger for the Phantoms, in the second round of last week's NHL Draft. He was the 52nd overall selection, which immediately caught Loney's attention.
"I texted him [that night]," Loney said. "He was drafted 52nd. So was I, but I was third round because we didn't have as many teams."
Letunov, 18, is a native of Moscow and came to the United States to play for a junior club in Dallas before joining the Phantoms last season. In 60 games last season, he scored 19 goals and had 24 assists.
He plans to attend Boston University to play hockey before embarking on a professional career. He has another season left in Youngstown.
"A lot of teams had meetings with me and showed interest in me," Letunov said. "The day before the draft, I had a meeting with St. Louis and I could tell they were very interested."
With his mother and 6-year-old sister, Liza, in Philadelphia with him for the draft, the 6-foot-2, 150-pound winger got the call he was waiting for.
"When I heard my name, I was full of emotions," he said in near flawless English with a hint of native accent. "There are no such words to describe the feelings. I was nice to go down [on stage], receive the jersey and shake hands with the whole [coaching] staff's hands.
"It was a dream since 4 years old. I'm satisfied, but it was a first step. I have a lot of work in front of me."
Little Liza is also thrilled.
"She's now a Blues fan," Letunov said. "She just loved the jersey and wears it all the time and enjoys it."
Letunov says he didn't have a particular favorite NHL team growing up, but cheered for Russian players. After his name was called, he soon realized who one of his future teammates could be.
"I know they have a Russian with [Vladimir] Tarasenko and I know their star is T.J. Oshie," Letunov said. "I knew a lot about him after the Olympics."
Oshie led the Americans to victory over Russia by converting four of six penalty shots in overtime.
Loney, who was also drafted at 18 out of his hometown teams in Alberta, Canada, was in the NHL a year later, was quick to offer advice.
"I just told him, 'You have to keep after it, get stronger, get faster,'" Loney said. "He has a lot of talent and he wants to move forward. Talent is there. You can have a good work ethic, then it comes down to brains.
"There are a lot of guys who are exactly the same in the minor leagues, but can't think the game fast enough. It's the same thing always in every sport.
"It's a different game now and the pro teams love it. They love our league and they love the college system and the hockey's gotten better and better."
Fellow Phantom JJ Piccinich was selected in the fourth round (103rd overall) to the Toronto Maple Leafs.