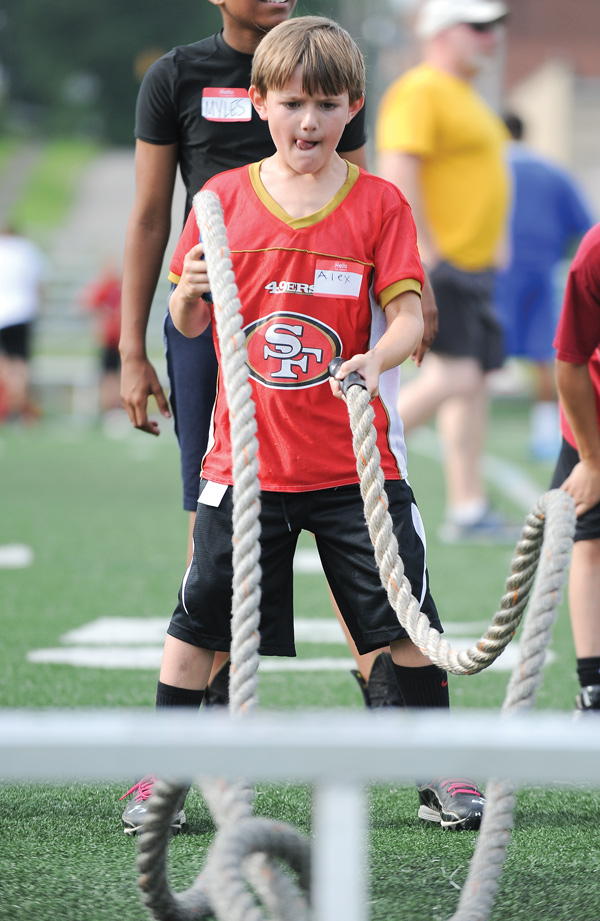 ---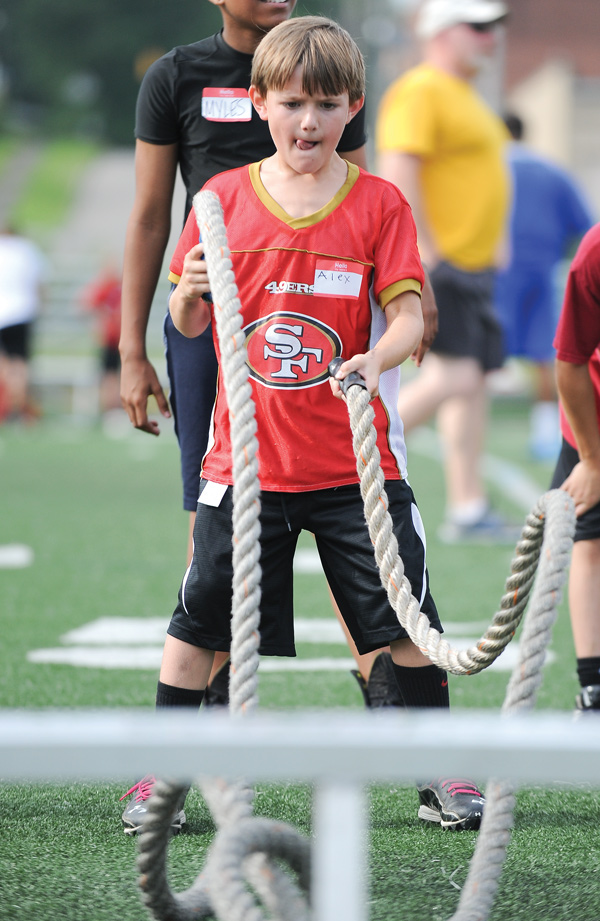 Photo
Alex Zordich of Boardman works on a rope drill Monday morning during the Cardinal Mooney Camp of Champions at Mooney High School.
— MOONEY CAMP OF CHAMPIONS —
By Ryan Buck
YOUNGSTOWN
Youngstown natives and Cardinal Mooney alumni Bo Pelini and Mark Stoops could have been anywhere this week, but decided to come home instead.
Pelini, who leads the Nebraska football program, and Stoops, the second-year head coach at Kentucky, headlined the distinguished list of football dignitaries who visited the 12th annual Mooney Camp of Champions Monday.
Stoops' older brother, Ron, a longtime high school coach and current Youngstown State assistant, has run the camp since its beginning.
Several notable Mooney football alumni and numerous other figures, including Jim Tressel, Bernie Kosar and Kirk Herbstreit, help coach and speak to hundreds of campers every year.
It's especially important to the former Cardinals that they return.
Pelini, 46, is in his sixth year as head coach at Nebraska after winning a national title as Louisiana State's defensive coordinator and assisting three National Football League clubs.
Home, however, is where the heart is. He hasn't missed a camp, he says.
"All I try to do is come back and give a little bit of help as far as what I can do to come back and help promote the school," he said. "I believe in it, I believe in what PJ [Fecko, Mooney head coach] and the other coaches are doing and what this place represents.
"I've lived in a lot of places across the country and they do it the right way here. There's a reason why there's been a lot of successful people not only on the field, but beyond. Once they leave here, they've learned the work ethic, principles, what's important and the values that are going to allow you to have success not only in the short term, but success in the long term.
"I feel fortunate to have gone here and I just want to give back."
And in all his programs, there's a Mooney influence with a little Youngstown sprinkled in, he said.
"It's the principles that allowed me to have success over a long period of time," Pelini said. "I try to incorporate them. I feel fortunate to have the foundation that I got here at Mooney."
Pelini will lead the Huskers into a reorganized Big Ten, which debuts two new divisions and two new teams in Maryland and Rutgers in the fall. The Huskers will be in the Big Ten's West Division.
Stoops, meanwhile, has reenergized a dormant Kentucky program that's in the midst of rising from the bottom half of the Southeastern Conference.
Not coincidentally, he says he has his experiences growing up in a football family and four years at Mooney to thank.
"We're always growing and changing in a lot of ways," said Stoops, 46, and in his first head coaching job. "But we're still the same in a lot of ways.
"The things we learned here and the foundation of hard work, accountability, dependability to your coaches and your team we learned from day one. There are a lot of things we take from here."
Stoops built the Florida State defense into a national title contender before departing for Kentucky and now has a rebuilding project in full swing.
"We're not where we want to be, we're still a work in progress, but very optimistic," he said.
"We're thinking about the future and great things are happening."
The camp concludes today at Cardinal Mooney.