Maggie has a home at Victoria House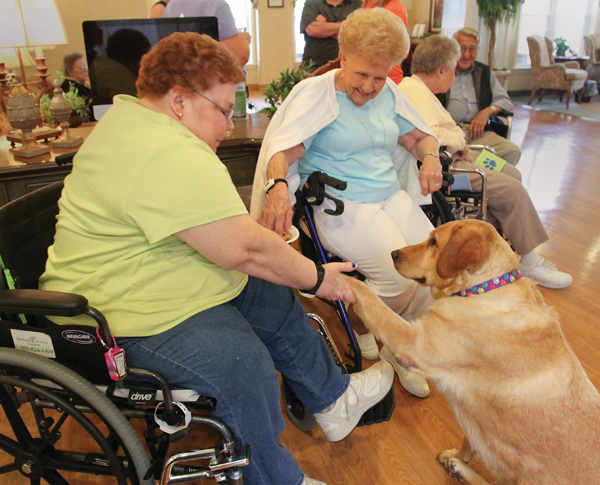 ---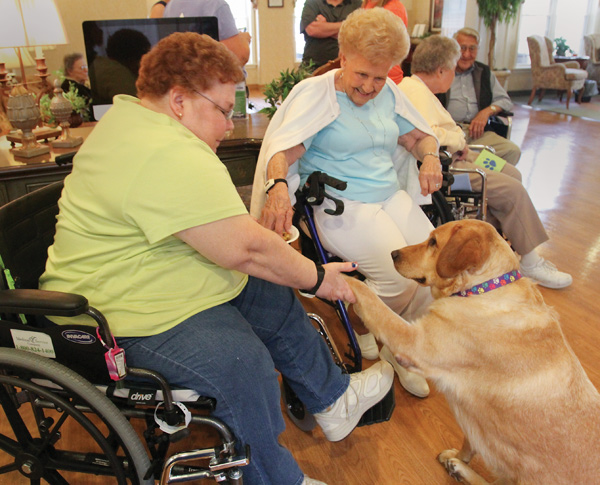 Photo
Maggie, a dog adopted by Victoria House assisted-living facility in Austintown, gets some love from residents Barb Melanson, left, and Louise Kotouc.
By Jordyn Grzelewski
Austintown
Victoria House, an assisted-living facility at 5295 Ashley Circle, welcomed a four-legged addition to its community Monday.
The Vista Care retirement center adopted Maggie, a 5-year-old lab/golden retriever mix, from Close to Home Animal Rescue, which rescued her from the Knox County Dog Pound the day before she was to be euthanized.
She arrived at Victoria House a month ago, and was honored Monday with an adoption celebration.
"We worked with the retirement community in the past, and [Maggie's] temperament was just perfect for it," said Amy Quinlan, 42, of McDonald, a co-founder and volunteer for Close to Home.
Before Maggie's arrival, Victoria House was home to another Close to Home rescue, Alfie. Alfie died a few months ago, and residents were eager to get another dog, according to director Danielle Russo.
"She has just kind of meshed with us and the residents, and became part of our family," Russo said. "It's just amazing how at the time we were looking for a pet to add to our community, Maggie was looking for a home."
The residents agreed that Maggie is a welcome addition to the Victoria House family, especially because of her gentle, easygoing nature.
"She follows me around and gives me a kiss. She's a sweet dog," said Louise Wellington, a resident. "She's a comfort, really, to a lot of us."
Close to Home rescued Maggie from the Knox County pound in April, where she was scheduled for euthanization because of a number of health problems including skin and ear infections and obesity. The animal-rescue center paid for a veterinarian to take care of those problems and to have her spayed, totaling about $400. Maggie now takes thyroid medication and has lost 30 pounds.
Close to Home Animal Rescue, which is operated entirely by volunteers and funded by private donations, serves Mahoning, Trumbull, Columbiana and Lake counties. Close to Home takes animals from local pounds, pays for veterinary care, places them in one of its foster homes and then finds permanent homes for them.
Quinlan said her organization was thrilled to work with Victoria House for this adoption because its staff went above and beyond to make sure Maggie and the residents are happy.
"To find someone willing to work beyond an eight-hour day to make sure their residents are happy — that is why we love partnering with them," Quinlan said. "They took on so much extra work. I am just in awe."
Quinlan, along with Roseanne Hack, 56, of Salem, co-founded Close to Home in December 2009.
"We started out saying if we could do 20 [rescues] a year we'd be happy," Quinlan said. For the past four years, Close to Home has rescued more than 230 animals each year.
Quinlan said one of the most important ways people can help the animal-rescue effort is by choosing to adopt pets rather than buying them from pet stores.