Mill Creek's Lily Pond re-opening for skating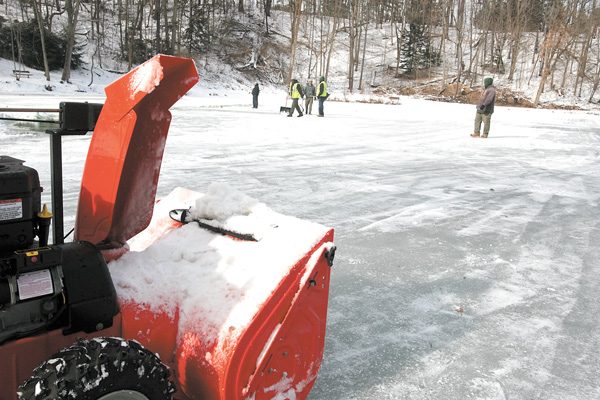 ---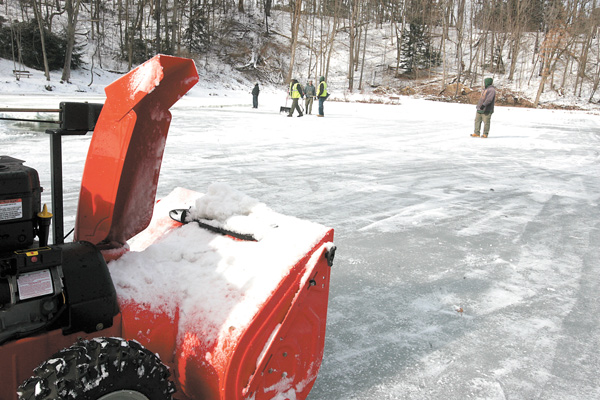 Photo
Mill Creek MetroParks employees clear the snow off the Lily Pond on Thursday. Some areas of the ice are about 8 inches thick.
By KALEA HALL
khall@vindy.com
YOUNGSTOWN
After more than 20 years, the Lily Pond will be open this weekend for supervised ice skating and hockey.
"Exciting is a good word" to describe the opening, said Steve Avery, planning and natural resources director for Mill Creek MetroParks.
The last time the pond was opened as an ice rink was in 1990.
The ice had to be tested for it to be deemed safe enough to open the ice rink. Some of the areas of the ice are about 8 inches thick, said Samantha Villella, MetroParks community engagement director.
That is "more than thick enough for people to be on it," she said.
The recent below-zero temperatures led to the pond freezing over more than it has in many years, Avery said.
The ice rink will be open with supervision from 10 a.m. to 6 p.m. Saturday and Sunday.
The announcement of the pond opening comes during the same weekend of activities already planned at the park for the Cabin Fever Fest. A chili cook-off starts at noon Saturday inside the Warming Center. The sled hill will be open for winter games and competitions.
There will be a "Jewels of Winter Orchid Show" at Fellows Riverside Gardens starting Saturday.
At the Ford Nature Center, Bill Whitehouse will discuss photography slides from his career Saturday.
From 10:30 a.m. to 12:30 p.m. Sunday, the MetroMutts: Resource Guarding program will take place at Fellows.
Guests also are invited to walk around Mill Creek Golf Course at 2 p.m. Sunday.
"We offer activities all year-round for visitors of the Mill Creek MetroParks," Villella said.
Hockey equipment for Saturday is being constructed by the operations department. Rental skates will not be provided.
The ice rink will be open unsupervised during normal park hours, but there are specified supervised hours. After this weekend's opening, the pond will continue to open with a supervisor from 3 to 6 p.m. Fridays and 10 a.m. to 6 p.m. Saturdays and Sundays through Feb. 23.
"We will continue as long as we can maintain a safe environment for the skaters," Villella said.
For more information on this weekend's events, go to millcreekmetroparks.org.