Youngstown's tax collection worse than expected
Tweet
Published: Thu, January 30, 2014 @ 12:02 a.m.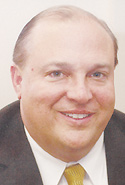 Photo
YOUNGSTOWN
The city's income-tax and business-profit tax collections last year are lower than originally believed — and that first estimate was $2 million less than originally calculated.
City finance officials told The Vindicator about three weeks ago that they expected to finish 2013 with $42,133,700 in income and profit taxes. The city had projected collecting $44,157,000 last year.
On Wednesday, city Finance Director David Bozanich and Kyle Miasek, deputy finance director, said Youngstown's actual collection for last year was $41,844,100 — $289,600 less than the amount they expected earlier this month.
"There were corrections and adjustments that had to be made," Miasek said. "We anticipated collecting a certain amount based on trends we saw during the year, but it didn't continue at the end."
The city had forecast a 4-percent increase in 2013 compared with 2012, in which $42,471,700 was collected. Instead, collections declined 1.5 percent.
Finance officials are being more cautious with their 2014 projection of $42 million, which is a $155,900 increase from 2013.
"We're expecting a relatively flat number for 2014," Bozanich said. "There are significant variables that could come into play. There are several construction projects that could go forward that would lead to a bump on the upside."
That includes a potential $81.5 million expansion by Vallourec Star. A decision by the company is expected in the next couple of months.
The city receives income-tax revenue from a 2.75 percent tax it imposes on those who work or live in the city and a 2.75 percent profit tax paid by companies.
The city had projected collecting $6.8 million in business profit taxes last year, but received only $4.2 million.
To make up that shortfall, the city postponed some projects to this year. Also, state casino taxes and inheritance taxes came in higher than the city expected.
There are no plans to lay off any city employees, Bozanich said.
The finance department should have a proposed 2014 budget to city council by mid-February. By law, council must approve the budget by March 31.
The administration also has listed four priorities for this year's budget, Bozanich said.
They are:
Strengthening community policing by adding a few new officers to the force.
Setting money aside to use as matching funds for demolition money coming from the state or federal governments.
Funding its economic development programs.
Setting aside additional money for street repaving, particularly on the city's main arteries.
The amounts for those priorities haven't been finalized, Bozanich said.
The city already has committed $960,000 toward completion of a South Side fire station, improvements to 20 Federal Place, and a sidewalk program.