Globetrotters slammin' at Covelli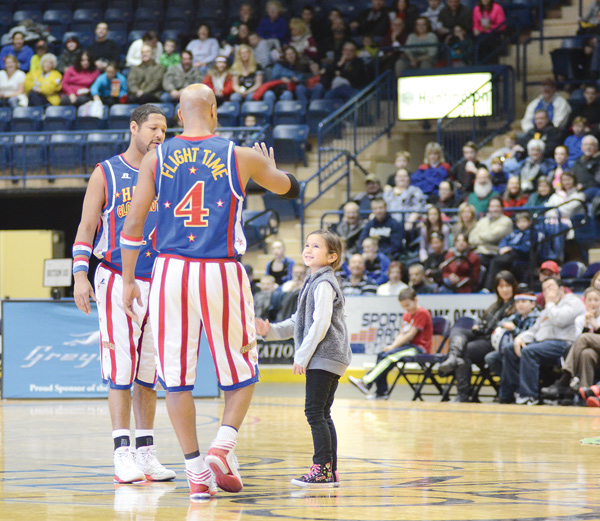 ---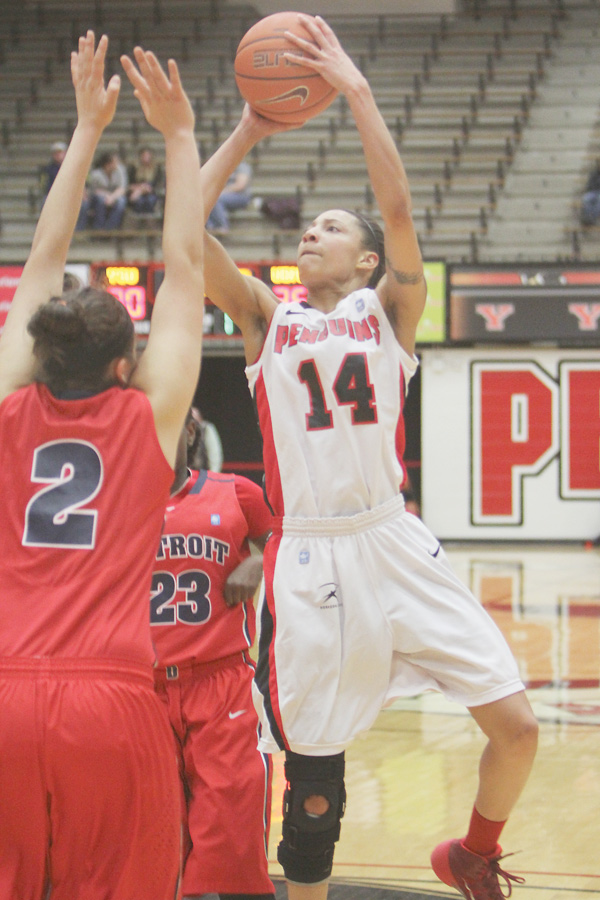 Photo
Youngstown State's Karen Flagg shoots a jump shot over Detroit defenders Haleigh Ristovski (2) and Senee Shearer (23) during the first half of Wednesday's game at YSU's Beeghly Center. Flagg had a career-high 26 for the Penguins, who downed the Titans, 80-71, and are 6-0 in Horizon League play.
By KEVIN CONNELLY
kconnelly@vindy.com
YOUNGSTOWN
It's one of the oldest tricks in the World Famous Harlem Globetrotters' book of in-game pranks that's been entertaining fans for the last 85 years.
That didn't matter Wednesday night at the Covelli Centre as the fans in attendance still ducked behind their seats as Handles threw a bucket of what's perceived to be water at Too Tall just as he ducks.
As confetti flutters out of the bucket at the expense of the innocent fans, Rhodell Franklin chuckles to himself and says, "That gets me every time."
Franklin was there with his 6-year old son, Kenyen, who was seeing the Globetrotters play for the first time.
However he couldn't support the team properly without getting some gear first.
"Yeah, he wanted to get a jersey, so I got him a Handles one," Franklin said. "He loves it, though. He's having a blast."
Franklin and his son weren't the only ones enjoying themselves as the Globetrotters took on the World All-Stars in their annual trip to Youngstown. The two teams played four 10-minute quarters with numerous breaks in between to get some of their youngest fans involved.
In the first quarter, Maria Goske, 6, joined them on the court as Flight Time helped her spin a basketball on her finger. That was just the first of many instances where fans were welcomed onto the court for a skit or a dance.
At one point in the middle of the game, the Globetrotters broke out into dance as "YMCA" came on over the loudspeaker. Within seconds the Covelli Centre court was filled with little kids all doing their best impression of the Village People.
"We really enjoy coming here," said Dennis Hamilton of Girard, who was there with his son Tyler. "It's a great time for the kids.
"I love how they make it into an event too. It's not just a basketball game."
This year, the Globetrotters' tour has a "Fans Rule" theme to it, where they give the fans an opportunity to vote on what rules they follow during the game.
Based on text and Twitter voting, Wednesday night's game featured the Trick Shot Challenge in the first and fourth quarters, the Make or Miss in the second, and the Hot Hand Jersey in the third.
"This is our second time coming here and I just love it," said Sandy Fider of Salem. "This year my son and daughter brought a friend and I'm just glad they keep coming back 'cause as long as they're here, we'll be here."
It was near the end of the third quarter when the Globetrotters went to their reliable bucket-of-confetti trick to dazzle the crowd.
As Kenyen Franklin looked down, with his eyes fixated on the Globetrotters' every move, Rhodell stood behind him holding onto his son's Globetrotters basketball — another must-have purchase for any fan.
"We try and make it down this way every chance we get," said Franklin, who resides on Youngstown's North Side. "Whether it's for the circus, or a concert, he always loves when we come downtown.
"And since he plays [basketball] down at the YMCA, he's really into this. You can't beat it."