Strimbu Fund comes out winner after Chubb Charity Challenge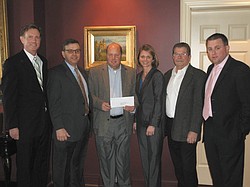 Photo
Bill Strimbu, president of Nick Strimbu Inc. and a founder of the Strimbu Memorial Fund, received a check for $22,000 from Melissa Scheffler of Chubb Insurance. A team sponsored by the HDH Group placed seventh in a national golf tournament and donated its winnings to the Strimbu Fund. From left to right are Steve Leon, HDH Group; Jim Grasso, Liberty Steel and vice president of the Strimbu Fund; Strimbu; Scheffler: Paul O'Brien of Rien Construction and president of the Strimbu Fund; and Joe Totten of the HDH Group. SPECIAL TO THE VINDICATOR
Staff report
NEWPORT COAST, CALIF.
In a fall golf tournament, a team sponsored by the HDH Group Inc., a Pittsburgh-based insurance organization, took seventh place and won a prize of $22,000 it directed to the Strimbu Memorial Fund.
The event was the 14th annual Chubb Charity Challenge, hosted by the Chubb Group of Insurance Companies. The team of Jim Grasso from Liberty Steel, Joe Totten and Jim Kopec from the HDH Group, Jeff Dziki from Forney and Melissa Scheffler from the Chubb Group was one of 45 North American teams competing for their charities of choice in the two-day national golf playoff Nov. 11 and 12 at Pelican Hill Resort.
The HDH-sponsored team qualified for the tournament at a district qualifier at the Pittsburgh Field Club in the spring. Local tournaments that led up to the national event raised more than $960,000 last year that will be given to more than 400 charities in the United States and Canada.
Grasso thanked the HDH group and the Chubb group for their philanthropy.
The Strimbu Memorial Fund was founded in 1990 to honor Nick Strimbu Jr. for his legacy of leadership, self-reliance and service. Since 1991 the fund has contributed to Newspapers in Education, which benefits all local school districts, to United Way campaigns, to local economic development organizations, to scholarship funds and to the Shenango Valley Foundation Unrestricted Fund, totalling more than $1.9 million in donations.
The fund will mark its 25th Anniversary Barbecue at an outing set for May 7 at the Yankee Lake Ballroom. This year the fund will bestow 12 $2,500 college scholarships and one $25,000 college scholarship to local high school seniors.
Leadership and self-reliance are the most important criteria required for the scholarships. The requirements were established after the example that Strimbu Jr. demonstrated.