Outdor workers face frigid temperatures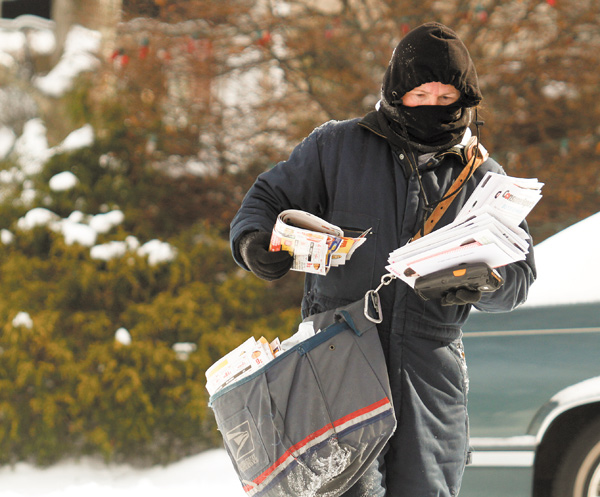 ---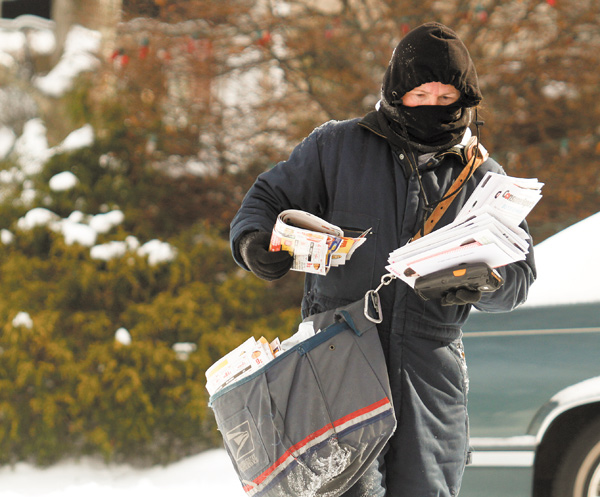 Photo
Carmen George makes sure to dress in layers when she delivers mail in Boardman during extremely cold weather.
By Kalea Hall
and EMMALEE C. TORISK
Even though Carmen George has spent 20 years delivering mail, she says this winter has been the coldest.
But with vigor and layers she fights the cold daily, pretending the frigid weather never bothered her anyway — since she used to deliver in the Windy City.
"My glasses froze" the other day, said George, who delivers in Boardman. "I couldn't wear them all day. I just started laughing. What else can you do?"
George is not alone. Emergency personnel — along with utility and mail workers — also have no choice but to face the elements.
"The bottom line is we need to operate in these extreme conditions," said Mark Durbin, First-Energy spokesperson. "We have an obligation to restore service."
Cold weather will continue today with a high of 11 degrees and wind chill as low as 29 degrees below zero, according to the National Weather Service. There is a wind-chill advisory until noon today with low temperatures mixing with the strong wind to cause dangerous conditions for exposed skin. A cautionary measure to take is to make sure all exposed skin is covered.
Outside of layering up, toe warmers and hand warmers are a must for letter carriers, George said. It is essential to keep your feet warm and dry, which is why she encourages everyone to shovel their driveways and walkways of snow and ice.
FirstEnergy service workers layer up with safety clothing and other essentials. They also are provided portable heaters. The company also can send out two crews to fix an issue so each service worker can limit exposure to the cold.
"They just spend more time looking out for each other by double-checking that the people in the crew are doing OK," Durbin said.
Durbin said there have been widely scattered outages in the Valley.
"The system we have is designed, built and maintained to handle extreme conditions and it is holding up pretty well," Durbin said. "We are prepared. We hope we don't have to go out in the environment, but if we need to then our guys are ready to go."
Fixing a water-main break in freezing weather isn't exactly the optimal situation for Aqua Ohio service workers, but with the cold comes the season of main breaks.
"We have to be able to maintain the integrity of our folks despite the temperatures," said Al Sauline, Aqua Ohio Struthers district's area manager.
Regardless of the weather, garbage pickup must continue, too.
For Republic Services, the waste service company that covers five local counties, the biggest challenge is just "trying to keep the trucks running," said Brent Bowker, general manager.
"We're making it through it, and we're running on our normal schedule," he said, adding that a couple of areas might have experienced slight delays, mostly due to mechanical issues with the trucks and snow-coated roads.
As for Republic Services' employees who ventured out in the cold, they were given hand warmers, along with free chili and coffee, Bowker added.
"We want to keep them hydrated, and keep the trucks functioning properly," he said.
Tim Roddy, Struthers police chief, said the subzero temperatures don't drastically affect members of the police department, but he does encourage his officers to be on the lookout for those who might be stuck in the cold.
"I tell them to pay attention to anyone who may be out on the street walking, and to make sure they're OK," Roddy said. "Or for anyone who is broken down, we will assist in any way, shape or form that we can."
He added that his officers bundle up — with additional layers of clothing — in case they have to remain outside the cruiser for an extended period. If they're cold, Roddy said with a chuckle, it's "their own fault."
Like Roddy, Campbell Fire Chief Nick Hrelec said he advises firefighters to dress appropriately for the cold, and to do the best they can to keep warm while working. If enough firefighters are on the scene of a fire, rotating them — or allowing the cold, wet ones to warm up in the firetruck while others take over — can be a viable option.
But typically, firefighters don't realize how chilly it actually is while battling a blaze, he added. It's only afterward, during post-fire cleanup, that they pay attention to the weather.
"I always say, 'You don't really know it's cold till the fire's out,'" Hrelec said.
One of the hardest parts of fighting fires in such low temperatures is ensuring an adequate water supply, he noted. Frozen fire hydrants, for example, might slow down the process. So far, though, the city's fire hydrants have been functioning well during the cold weather.
Youngstown Fire Chief John O'Neill added that the cold also necessitates constant maintenance of the department's firetrucks to keep them and their equipment working properly in case of an emergency.
In addition, in any kind of extreme weather situation, the chief officer at the scene of a fire is responsible for monitoring the conditions of his crew — whether they're in danger of frostbite or heat exhaustion, O'Neill said. It's just one additional duty that gets added to their checklist.
"It adds to that burden and moves higher on their priority list," he said.