Obama again calls Youngstown hub national asset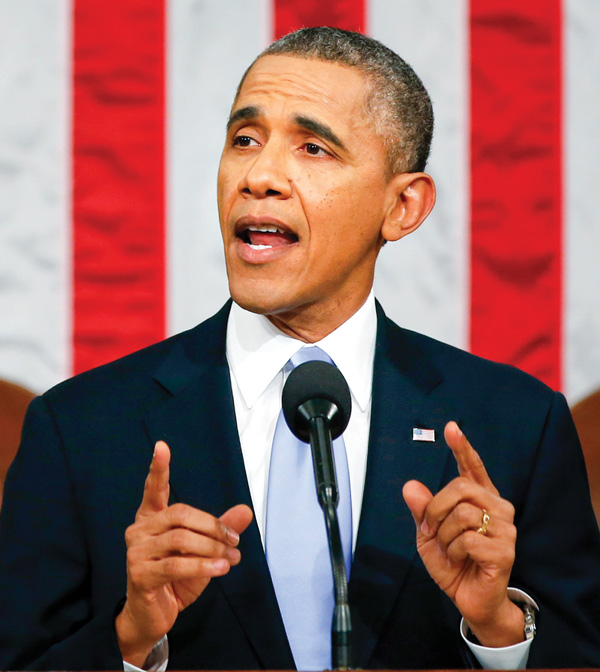 ---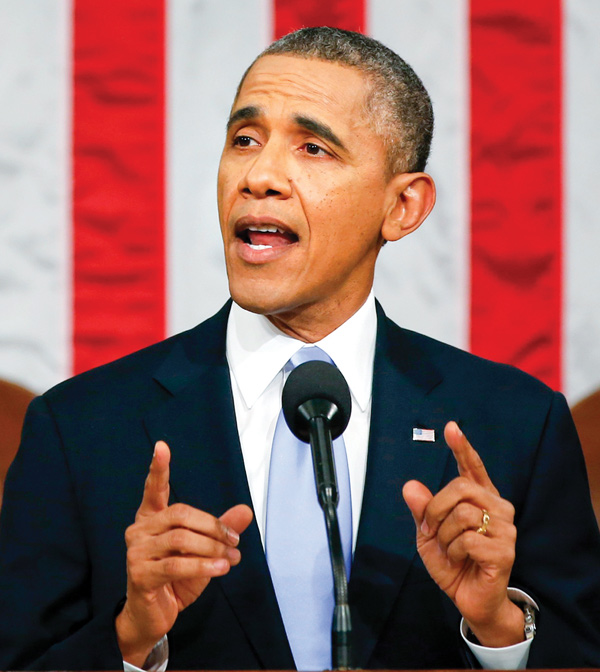 Photo
President Barack Obama delivers the State of the Union address in the House chamber Tuesday.
YOUNGSTOWN
For the second year in a row, President Barack Obama in his State of the Union address mentioned Youngstown's $70 million advanced manufacturing hub as an example of how the United States can "beat other countries in the race for the next wave of high-tech manufacturing jobs."
"My admin- istration has launched two hubs for high-tech manufacturing in Raleigh, N.C., and Youngstown, Ohio, where we've connected businesses to research universities that can help America lead the world in advanced technologies," Obama said in Tuesday's address to the nation.
Obama said that the federal government would "launch six more [advanced manufacturing hubs] this year. Bipartisan bills in both houses could double the number of these hubs and the jobs they create. So get those bills to my desk. Put more Americans back to work."
The American Makes facility, previously known as the National Additive Manufacturing Innovation Institute, took to Twitter to write it was "thrilled to announce [Obama] has mentioned" the location.
Others, including current and former Youngstown residents, also tweeted about Obama's mention of Youngstown.
U.S. Sen. Sherrod Brown, a Democrat from Cleveland, praised Obama for calling on "Congress to pass my bipartisan bill to create a network of manufacturing innovation hubs based on Youngstown's America Makes."
Brown is sponsoring legislation to establish other such hubs to "create thousands of high-paying, high-tech manufacturing jobs. This builds on the momentum created when the administration announced earlier this month that it would support the creation of a new public-private manufacturing hub modeled after Youngstown's" America Makes.
"The people in Youngs-town should be proud of the work that the additive manufacturing folks are doing for the city and for the country," said Youngstown Mayor John A. McNally. "It seems to be a pattern by the president to congratulate us on the additive manufacturing work and we hope it continues."
McNally, a Democrat, said that he and 10 other mayors met privately last week with Vice President Joe Biden to talk about workforce development at a U.S. Conference of Mayors event in Washington, D.C. The group also spoke to David Agnew, deputy assistant to the president and the director of intergovernmental affairs.
"We had a good conversation," McNally said. "We in Youngstown find it great that the president mentions us. I told [Biden], 'We hope it continues next Tuesday [in the State of the Union address]. It's very positive for us to be recognized by the president."
U.S. Rep. Tim Ryan of Howland, D-13th, said: "I applaud the President's call for more investments in infrastructure, his commitment to high-tech manufacturing in Youngstown, Ohio, and his call to replicate the success there in six more places around the country. That our region is once again being held up as an example for the nation to follow should make every Ohioan proud."
Barb Ewing, chief operating officer at the Youngstown Business Incubator, instrumental in getting America Makes to the city, said Obama's remarks "reaffirm our position that we're breaking new ground here. Every time the president mentions Youngstown, it remind the country that we're making things happen here."
In last year's State of the Union address, Obama used the America Makes facility as a model for the development and growth of new technology in the nation.
"Last year, we created our first manufacturing innovation institute in Youngstown, Ohio," Obama said in the Feb. 12, 2013, speech. "A once-shuttered warehouse is now a state-of-the art lab where new workers are mastering the 3-D printing that has the potential to revolutionize the way we make almost everything. There's no reason this can't happen in other towns."
During the speech, Obama said he planned the "launch of three more of these manufacturing hubs" and asked Congress to help "create a network of 15 of these hubs and guarantee that the next revolution in manufacturing is made in America."
As it did with Obama's other top priorities — immigration reform, increased gun control, an infrastructure job-creation program, Medicare reform and deficit reduction — in his 2013 State of the Union address, Congress didn't take action needed to create Obama's proposed 15-location advanced manufacturing network.
He lowered the number to six in Tuesday's State of the Union address.
Obama named Raleigh, N.C., on Jan. 15 as the first of the three manufacturing hubs. During that speech, Obama praised the "great work" occurring at Youngstown's facility.
The Youngstown facility uses 3-D software that draws up a detailed blueprint, which is then transmitted to a specialized machine that uses plastics, metals or resins to print a product layer-by-layer, cutting out costly materials and labor in the process.
In response to Obama's address, U.S. Rep. Bill Johnson of Marietta, R-6th, said, "I am disappointed, but not surprised, by President Obama's decision to double down on the same big-government policies that are making the American people's lives harder. The president's real agenda is not about equalizing incomes; his goal is to equalize outcomes. And that will lead to setbacks for small- business owners and hard working taxpayers."
Fellow GOP U.S. Rep. Mike Kelly of Butler, Pa., R-3rd, who represents Mercer and Lawrence counties, said, "For the fourth year in a row, I listened live as President Obama spoke boldly and ambitiously, and for the fourth year in a row, I heard him fail to acknowledge the true solutions that our country desperately needs or accurately describe the true challenges that so many Americans are facing. While the president once again depicted a far-reaching agenda sure to please his political base, his speech once again provided the wrong answers to the wrong questions."
Obama is visiting a U.S. Steel Irvin Plant in West Mifflin, Pa., near Pittsburgh, today as part of a two-day, four-stop tour to support the agenda he discussed in Tuesday's address.