New lab puts YSU at forefront of 3-D printing technology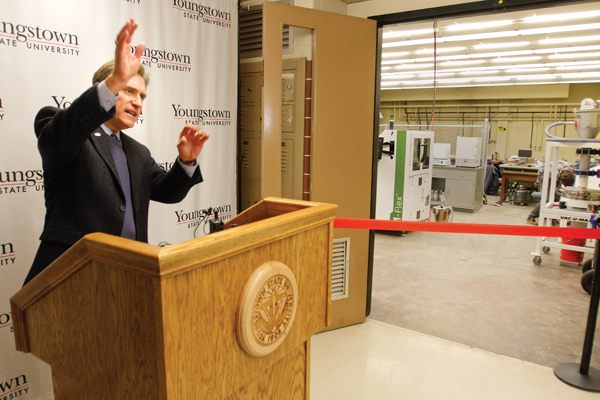 ---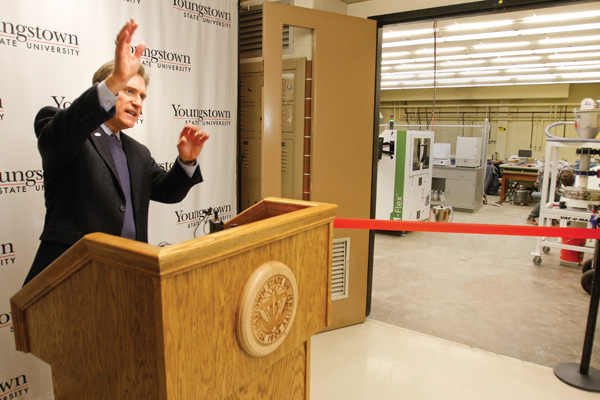 Photo
Youngstown State University president Randy J. Dunn talks about the significance of the university's new Center for Innovation in Additive Manufacturing, which was unveiled Tuesday in Moser Hall.
By Denise Dick
YOUNGSTOWN
A new lab at Youngstown State University puts the school at the forefront of additive manufacturing education in the United States, says President Randy J. Dunn.
Dunn and other representatives from the university and the business world cut the ribbon Tuesday morning for the Center for Innovation in Additive Manufacturing at YSU's College of Science, Technology, Engineering and Mathematics.
Dunn said YSU is building its reputation in 3-D printing.
The lab, on the first floor of Moser Hall, houses two 3-D printers bought with money provided through the Ohio Third Frontier as part of the Wright Center for Sensor Systems Engineering project and university funds. The total cost of both printers was about $400,000.
"We are committed to establishing a leadership position in additive manufacturing and developing YSU as the best place in the world for educational opportunities on this breakthrough technology," he said.
YSU is the second university in the world with this particular equipment installed and operating, said Martin Abraham, dean of the College of STEM. The other is North Carolina State University.
Abraham said that two years ago, YSU entered the 3-D printing world with machines that printed in plastic. The newest machines, enable objects to be printed in metal and ceramic, he said.
The center will be supervised by two faculty members who are new to YSU. Brett Connor, associate professor of mechanical and industrial engineering, came to YSU last summer after working in research and development for the U.S. military and at Alcoa. Guha Manogharan, assistant professor of mechanical and industrial engineering, has several years of research experience in metal additive manufacturing.
Abraham said industry also played a role in creation of the center, mentioning the Youngstown Business Incubator and Mike Garvey of M-7 Technologies, specifically.
He said YSU played a role in the federal government's 2012 decision to pick downtown Youngstown as the site of the first National Additive Manufacturing Innovation Institute, which is now called America Makes.
America Makes' new deputy director is a former YSU engineering faculty member and Michael Hripko, formerly director of YSU's STEM College research and technology-based economic development, is now deputy director of workforce and educational outreach at America Makes.
Connor said the new center puts Youngstown in a good position in the next revolution in manufacturing.
Ashley Martof of Mineral Ridge and Ashley Bowers of Austintown, both juniors majoring in industrial engineering at YSU, worked with the larger of the two printers as it printed stainless steel 3-D models of YSU penguins and YSU coins.
It's an involved process, the students explain, with several steps.