Published: Wed, January 29, 2014 @ 12:05 a.m.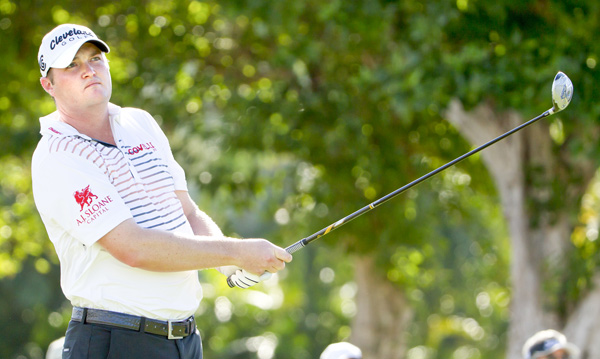 Photo
Jason Kokrak watches the flight of his golf ball off the first tee during Round 3 of the Sony Open in Honolulu. In the midst of his third full year on the PGA tour, Kokrak, a Warren JFK grad, has developed a comfort level both on and off the course that he feels will help lead him to his first Tour win.
Warren's Kokrak sees improvement as 3rd season progresses
By Ryan Buck
With his third full year on the PGA Tour underway, Warren native and Warren JFK High School graduate Jason Kokrak does not have to worry about as many of the sport's nuances that once bothered him.
Those include driving directions to each course at which he is scheduled to play, where to park and which local course rules to adhere.
"I don't have to ask questions and I can go ahead and get into my own routine and I can do what I have to do to prepare for the golf tournament," Kokrak said recently in a telephone interview. "It makes it so much easier for me year after year."
Another season has given him a comfort level both on and off the course that he feels will help him break through and earn his first Tour win.
"I obviously want to win," he said. "I want to limit mental mistakes. This year I'm learning more and more about each golf course."
Three weekends ago, Kokrak was sitting at 7-under par through three rounds, but missed the cut under the PGA Tour's Humana's three-day extended cut system.
Nonetheless, Kokrak, 28, has become more consistent in the opening events in each season.
In 2012, he missed three of five cuts to begin the year with a ninth-place finish at the AT&T Pebble Beach National.
In 2013, he finished 72nd at the Sony Open, followed that with a tie for eighth place at the Humana and then missed two cuts including the AT&T event.
This season, he began with a tie for 12th at the Frys.com Open in October. He has missed two cuts while finishing tied for 10th at The McGladrey and tied for 20th at the Sony Open.
He sits in 59th place in the FedEx Cup standings and has earned $277,984 so far this season.
When his 2013 tour season ended last September, he said he decided to take on a less-intense, yet extended, offseason routine which lasted a month.
"I actually took a long offseason," he said. "I got myself back in the gym working out a little bit. I didn't hit as many balls as much as I have in the past. I chipped and putted more. I definitely took my offseason. I practiced intermittently."
Kokrak says the PGA's early season West Coast swing and Florida stretch feature some of his favorite courses. He is scheduled to play in the Waste Management Phoenix Open this weekend before the AT&T Pebble Beach National and the Northern Trust Open at Riviera Country Club near Los Angeles.
Once the season turns to spring and then summer, Kokrak says he sees more "mundane" courses on the calendar.
"It's to my advantage to play golf courses that are short," said Kokrak, whose hole-in-one on the 409-yard, par-4 No. 5 hole at the McGladrey Classic Pro-Am in November went viral in golfing circles. "I've grown up around courses like that at Trumbull and a lot of courses around the Warren-Youngstown are short and narrow."
He is still looking for the elusive first victory.
"It's about being in position to win," he said. "As long as I can do that and play solid on Sunday, one of these times I'm going to roll ball in the right direction and win one of these things."
Kokrak tees off Thursday morning at the TPC Scottsdale, Ariz.