Gov. Kasich seeks additional snow days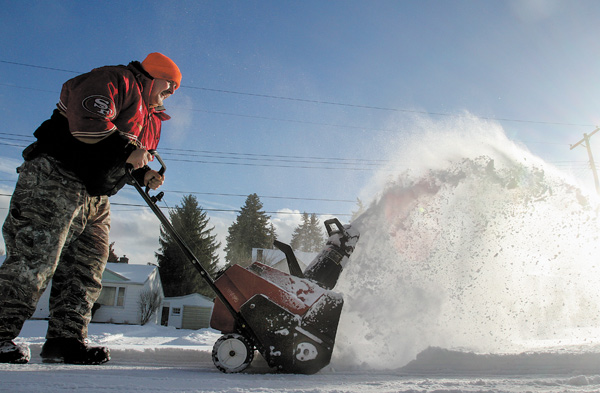 ---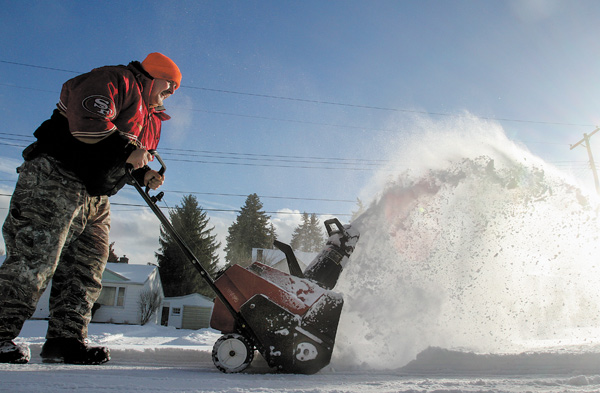 Photo
Norm Capp of Youngstown, bundled up as he braves the conditions Monday, uses a snowblower to clear a friend's driveway on Chaney Circle in Youngstown. Today's high temperature is expected to be 2 degrees with wind chills as low as 28 below zero.
Staff report
Columbus
Just as some Mahoning Valley school districts have reached or exceeded the allotted number of calamity days this year, Gov. John Kasich is asking legislators for a one-time increase because of this winter's frigid and snowy conditions.
Ohio law allows schools to close for up to five calamity days this year for snow or other emergencies before having to make up those days.
With successive days earlier this month of single-digit temperatures and subzero wind chills, some districts have reached or exceeded that number. With many schools closing today because of low temperatures, others may find themselves in similar situations soon.
Today marks the sixth day Youngstown schools have been closed this year because of bad weather.
Superintendent Connie Hathorn said the district hasn't decided how days beyond the allotted five will be made up.
"We could extend the school day, extend the school year," he said.
Hathorn said he would have to talk to both the school board and the teachers union to determine the course of action.
He said he worries about the lost instructional time. Both the Ohio Achievement Assessment and Ohio Graduation Test are coming up within the next couple of months.
"Each day we lose, we lose instructional time with students," Hathorn said.
ELSEWHERE
Warren Superintendent Michael Notar notified the Ohio Department of Education on Monday that its school board and a teachers representative have approved a plan that would prevent the school district from having to make up more than two snow days this year. The district has used eight days this year.
The board approved a policy that involves giving students assign-ments for each of their missed classes the day after they return from a calamity day. The alternate policy can be used to make up as many as three snow days.
Each student will have two weeks to complete the assignments, which must be relevant to the common-core areas taught in each class.
Warren has used more calamity days than most other districts because of the number of students who walk to school or walk to a bus stop.
"We have close to 1,000 students who walk," Notar said. "Even our bus stops are common bus stops. They have to walk — not far — but they have to walk to a bus stop."
Many Trumbull County school districts operated on a two-hour delay one time last week, but that isn't a good option in Warren either because of the number of students who would be unsupervised for those two hours, Notar added.
But Kasich's plan could change that.
"School closures can, of course, be an inconvenience, but student safety always comes first," the governor said in a statement Monday. "Many schools have already hit the maximum number of snow days, or will soon, and if they exceed it and have to extend the school year it can wreak havoc with schools' budgets and schedules."
John Charlton, spokesman for the Ohio Department of Education, said state law requires districts to be in session a minimum of 175 days. Districts schedule their school years with more days so that they can meet that minimum even if they have to close schools for weather or other emergency situations.
School has been canceled three times in Liberty this year because of weather. The district implemented two-hour delays on four occasions because of the weather, said Superintendent Stan Watson.
The district has a contingency plan if it exceeds the number of permitted calamity days.
"We have days scheduled at the end of the year for makeup days. Everybody does that," Watson said. "That becomes a little bit problematic at times because people have plans."
Seniors want to get out of school and start their jobs or move forward with college plans. There's also the possibility of using other days, such as during spring break or one scheduled for professional development, as makeup days for those missed, Watson said.
Today is the fifth closing for Poland schools. Superintendent David Janofa said the district will make up any days at the end of the school year.
Canfield has closed school only three times this year because of weather, using two-hour delays instead.
If the district exceeds the number of allotted days, the district will deal with it, said Superintendent Alex Geordan.
"We value each and every day in the classroom, but student and staff safety come first," he said.
Canfield has five days at the end of the school year designated to make up days if needed. It's also possible to use days earlier in the year, such as spring break.
Because families likely have made plans for that week, attendance may be low. Attendance could be hard hit at the end of the school year, too, as people also have plans, he said.
Today is the third day that Boardman schools have been closed because of bad weather, and if the district goes beyond what's allowed in the law, the days will be made up at the end of the school year, said Superintendent Frank Lazzeri.
Lazzeri said he doesn't buy into the blizzard bags, the assignments given to students to make up for missed days.
"I think teachers are a precious resource, and they cannot be matched by makeup work," he said.