Boardman hands Fitch first loss of season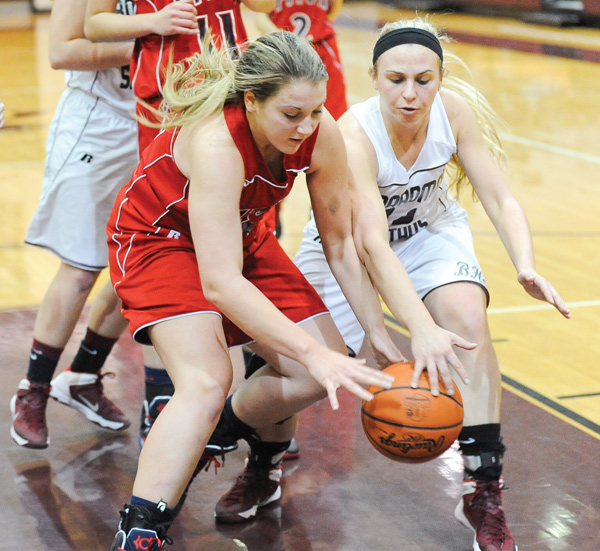 ---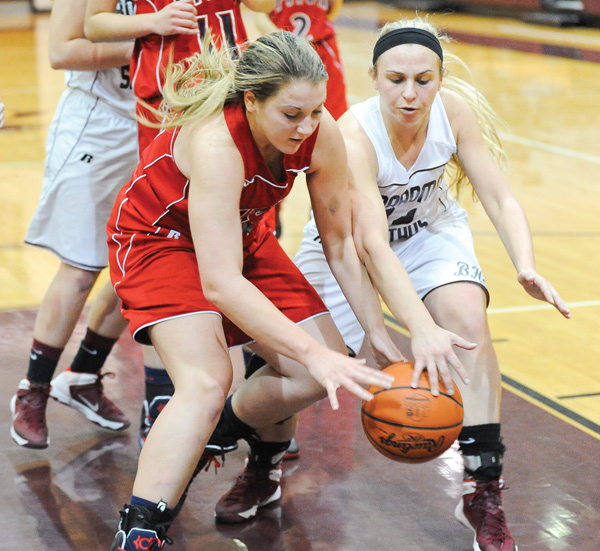 Photo
Fitch's Cassie Custer, left, and Boardman's Jenna Kuczek wrestle for a loose ball during Monday's game at Boardman High. The Spartans won, 52-49.
By Joe Catullo Jr.
BOARDMAN
Ten seconds remained Friday night when Megan Sefcik attempted a potential game-tying 3-pointer against Boardman High.
She missed wide left and was short. The ball bounced back and forth. The Spartans took over with seven seconds left.
Five seconds remained when Jenna Kuczek received a pass. She began running towards the Spartans' basket. The Falcons tried fouling her but couldn't get a handle on her jersey.
With three seconds left, Kuczek was all alone.
"When I finally realized Jenna was ahead of the pack and the clock was going to run down, I just kind of let all that emotion out that I've had for a long time," Boardman coach Jeff Hammerton said.
The clock trickled to two seconds, one second and the buzzer finally sounded off. Boardman pulled off the upset, 52-49, and ended the Falcons' (15-1) perfect season. The last second wasn't the only time Hammerton could not wait to hear the buzzer.
"I was just hoping the clock would go down to start the game because they were coming out crazy," he said.
The Spartans (7-11) ended the first quarter leading 14-4 and capitalized on seven turnovers. The Falcons tallied 15 turnovers overall.
"One of our keys today was value each possession," Fitch coach Stacie Cepin said. "We just didn't do that early on. When you lose possessions, you lose opportunities to score."
Fitch then began the second quarter on an 8-2 scoring run. The Spartans answered, which became a theme all game.
The Falcons had the last scoring run. Beginning at the 4:22 mark in the fourth quarter until 1:05 remained, Fitch outscored Boardman, 11-3, and trailed by two.
Sefcik missed a couple key 3-pointers and free throws that would have either tied or given Fitch the lead. Sefcik finished with 10 points. She was limited due to Anna Patoray's defense.
"Against her, there is a lot of hustle," Patoray said. "You have to keep up with her. You just have to stay in front of her. I went in the game knowing what I had to do, and I did my absolute best to complete that goal."
Sarah Melfe finished with a team-high 12 points for Fitch. Cassie Custer scored 10 along with Sefcik and collected 10 rebounds.
"Just because we lost one game doesn't shatter our whole season," Cepin said. "We definitely have some other goals that we're trying to achieve. It's coming quick, so there's no time to feel bad about ourselves."
Kuczek paced Boardman with a game-high 16 points. Megan Volosin had 11 while Briana Fonderlin and Kelly Tomcsanyi each tallied eight.
"This team started out slow but are playing their best basketball right now," Hammerton said. "I am so fortunate that these girls are playing so hard right now. They've bought in to what we're doing."