Celebrating Chinese new year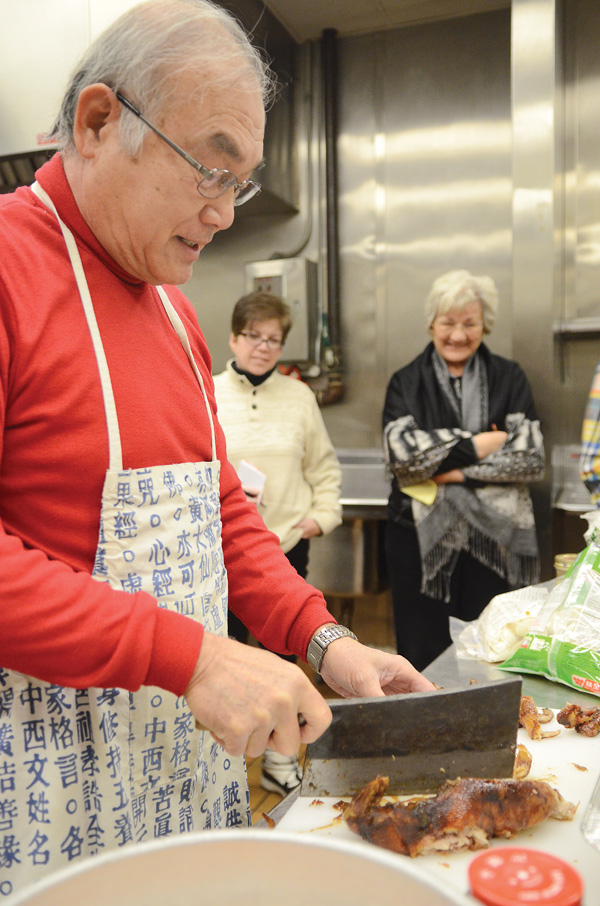 ---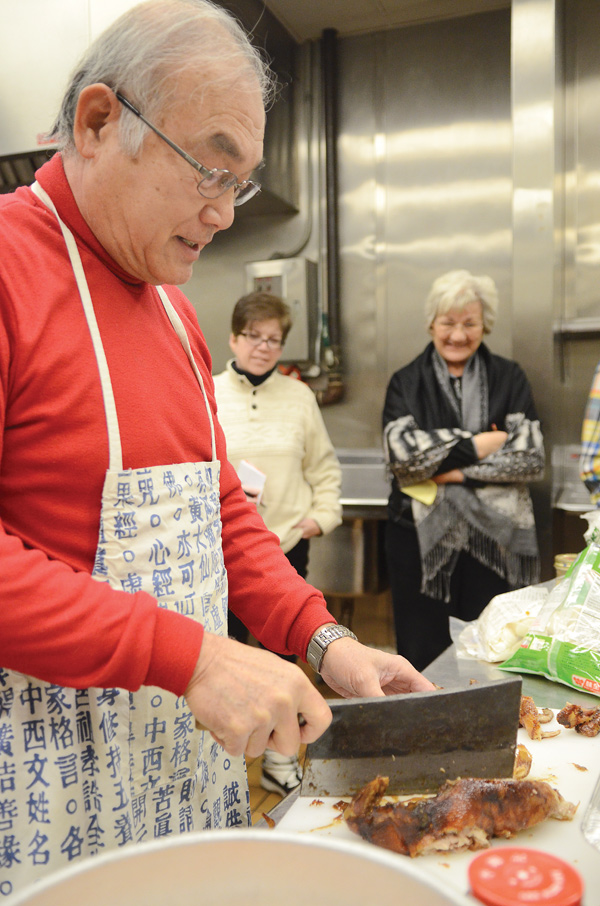 Photo
Dr. Y.T. Chiu uses a cleaver to chop up a roasted duck while Wendy Owens, left, and Beverly Italiano watch. He and his wife, Marilyn, presented "From the Garden: Chinese New Year" at Fellows Riverside Gardens.
Community prepares to celebrate the year of the horse
By LINDA M. LINONIS
YOUNGSTOWN
More than a delicious Chinese dinner of soup, duck, fish and vegetables topped off by a custard dessert was served during a recent "From the Garden: Chinese New Year" program presented at the D.D. and Velma Davis Education & Visitor Center at Fellows Riverside Gardens of Mill Creek MetroParks.
Dr. Y.T. Chiu and his wife, Marilyn, also offered an entertaining two hours on how to celebrate the Chinese New Year. They shared tidbits about the culture spiced with banter about cooking in general. Their interaction has the ingredients of a fun cooking show.
Dr. Chiu is a retired plastic surgeon who also taught at Northeast Ohio Medical University. He is from Hong Kong and came to the United States in 1962. He and his wife were married in 1964.
Chiu said he's been cooking all his life. "If you want to eat while you're in college, you learn to cook," he said.
He offered the 12 women and two men at the program red and white wine to sip while they watched him cook. "If I forget to drink ... [the wine], I cook with it," he said.
Chiu said the Chinese calendar is based on the lunar cycle. Just as Jewish celebrations, which begin at sundown, so do Chinese observances. So, Chinese New Year observances in the form of family dinners will be Thursday night, while Friday will feature other celebrations with fireworks.
"To celebrate the new year, families get together," Chiu said. "It's a big deal."
A valued tradition, he continued, is paying respects to the older generations. "It's most important," he said.
Red envelopes containing money and chocolate are given to children. "It's like a favor," Chiu said.
2014 is the year of the horse, Chiu said, and people born in the year of the horse are spirited.
Chiu said the meal for the eve of Chinese New Year would include multiple courses, but fish is always served. There also might be some kind of fowl such as duck, chicken or goose, and roasted pig. Soup, a variety of vegetables, rice and a dessert round out the meal. "The Chinese divide the meal into the principal food and accessories," he said.
Marilyn Chiu demonstrated how to season a duck; two already had been roasted for the dinner. She used a combination of hoisin sauce, fresh ginger, five-spice powder, a touch of sugar and high-fructose corn syrup. She told the group that honey could be substituted for the syrup.
The Chius said they didn't measure out ingredients or seasonings, but used what felt right. They cautioned cooks not to add salt, as most of the seasonings already contain it.
Chiu also told the group that ingredients needn't be expensive to be good. He used swai, a fish in the catfish family, for the fish course. He acknowledged being frugal, adding "but it has to taste good." The swai has a mild not "fishy" taste, he said. Chiu also demonstrated how to cut up a duck using a cleaver.
Chiu told the group that "leftovers are a must." "It's kind of an omen to ensure prosperity in the new year," he said of having something left over from the meal.
The Chius present three or four programs a year and are supporters of the park. Chiu said he and his wife like to offer the programs because they benefit the park, give them something to do in retirement and they can share Chinese culture. "I talk about customs and the culture," Chiu said. "I think it helps promote understanding ... when you know people, you're not afraid of them," he said.
In April, the Chius will lead a trip to Cleveland where participants will visit Chinese shops to buy ingredients and dine at a Chinese restaurant.
Patsy Bakos of Boardman attended for the first time. "I heard their program was entertaining, and you had dinner, too. I wasn't disappointed," she said. "Wonderful" is how she described the smells in the kitchen.
Mark and Sharon Koury of Youngstown said they have been to other Chiu programs and always have been entertained and learned something. "The food is wonderful," he said.
The couple, who often cook together, said they planned to try a meal at home to celebrate Chinese New Year. They also noted the Chius are a resource on where to find ingredients.
Lucy Setz of Boardman said she also learned a lot from watching the presentation.