East defense holds off Struthers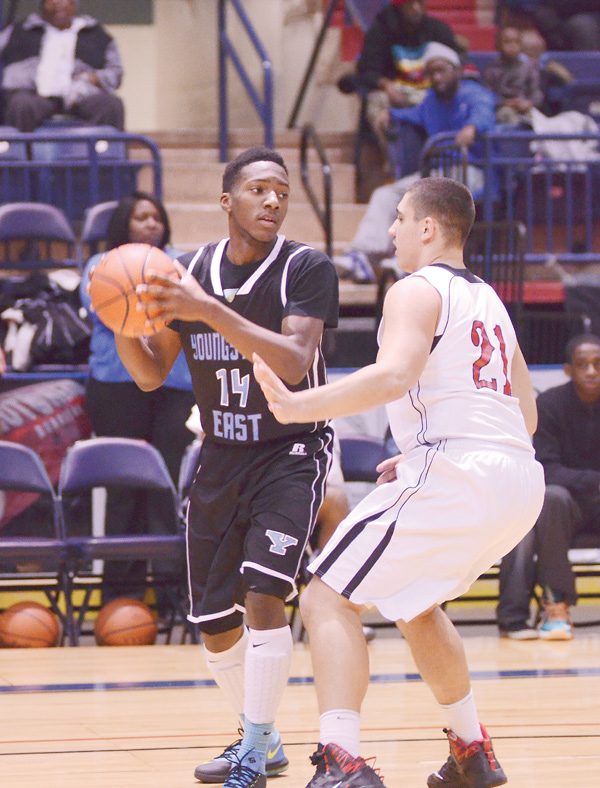 ---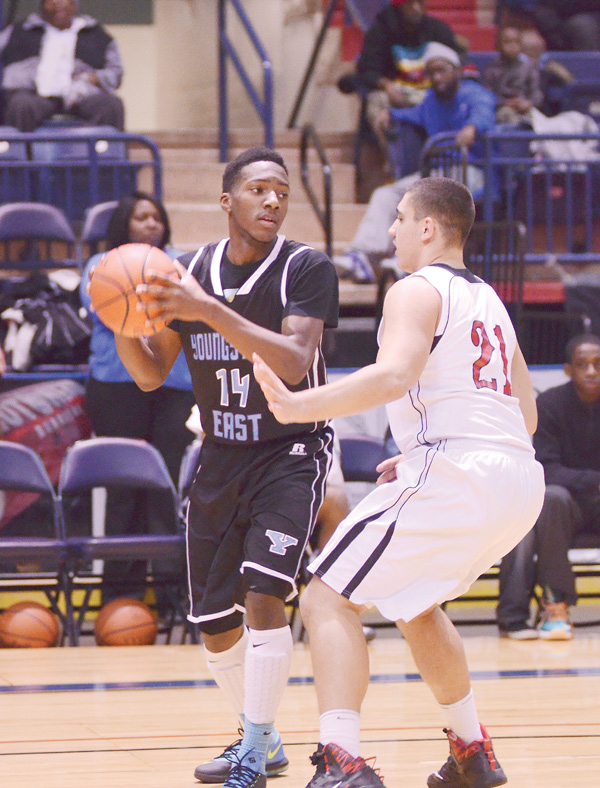 Photo
Struther's Austin Yemma guards East's Rashawn Boykin during the second period of their game Sunday at the annual Lariccia's "See Them Rise" High School Basketball Showcase at the Covelli Centre. Boykin had 15 points and six rebounds for the Panthers, who edged the Wildcats, 60-57.
Final defensive stand helps lift East over Struthers
YOUNGSTOWN
In a game where neither team had more than a two-possession lead, Youngstown East found itself up by three points over Struthers with under a minute remaining.
The Wildcats' top two shooters, RayQuan Phifer and Austin Yemma, were the obvious choices to take the last shot to try and force overtime. Phifer, who had a game-high 23 points and 13 rebounds, was able to get off a 3-pointer that didn't fall, but the Wildcats pulled down the offensive rebound for another chance at the tie.
However the Panthers' defensive pressure was too much for Struthers, which never got another good look from behind the arc, and East escaped with a 60-57 victory Sunday afternoon at the Covelli Centre in the third annual "See Them Rise" High School Basketball Showcase.
"That's been one of our struggles all year," East coach Dennis Simmons said. "We have the potential to defend very well, but we don't always do that."
The final possession was one of the few times all afternoon the Panthers were able to prevent Phifer from scoring. The 6-foot-2 junior slashed and powered his way to the hoop all game. In the fourth quarter he showed off his shooting touch, knocking down two 3-pointers in the final minute to keep the Wildcats within striking distance.
"We've been looking for him to do that and he's done it more and more as the season's gone on," Struthers coach Joe Savko said. "He's a good player, but we need to get together as a team and figure out what we can do to compliment him."
East held a one-point lead at the half, 32-31. The third quarter opened with poor decision making from both sides, as the two teams combined for almost as many turnovers as points.
The one positive that came out of it for East was senior guard Anthony Reid finding his groove. He scored six points in the quarter, setting himself up for big plays down the stretch.
"He's a shooter so we just had to feed the hot hand," said Panthers point guard Rashawn Boykin. "He knows what he can do and he knows what I can do to get him the ball."
Reid scored a team-high 17 points and Boykin added 15 points and six rebounds.
Simmons' Panthers got the stop they needed, when they needed it, but that doesn't mean their coach still wasn't sweating it out until the buzzer sounded.
"One of the things that we struggle with is playing four quarters of basketball," Simmons said. "We didn't do it again, but we were able to close out and play those important last three minutes."
Even if the final defensive stand isn't exactly what he drew up in the huddle.
"Basketball's about gambles," Simmons said. "If your gamble works, you're a genius; if your gamble doesn't work, you're an idiot. So they gambled right."