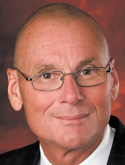 ---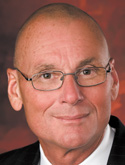 Photo
By Jeanne Starmack
Liberty
The Liberty school district is making steady progress toward release from fiscal emergency, says district Superintendent Stan Watson.
When that will happen, however, is hard to predict, said George Donie, secretary of the state commission that is overseeing the district's finances. Donie, who retired from Boardman schools as its director of business affairs, is now working as a fiscal monitor for the Ohio Department of Education.
"That would be speculation," Donie said Friday. "I think they'd get out sooner if they'd pass a levy."
Paul Marshall, chairman of the state commission, recommended in October that the school board approve a levy for the May ballot.
The board has not yet made a decision on whether to do that.
Watson said the board hopes to meet with commission members first and might do so at the next commission meeting Feb. 24.
The district went into fiscal emergency in part because the board was led to believe it would get double the amount of state money per pupil from two conversion schools. The schools used Liberty buildings, but were separate from the public schools and were competing with them for students, according to Vindicator files.
Liberty Early Academic Resource Nest and Liberty Exemplary Academic Design began operating in 2009.
Board members said former district Treasurer Tracy Obermiyer told them the district was on track to receive the double funding, according to Vindicator files, but it was not true.
In February 2011, state auditors told the board the district's books were unauditable.
State auditors revealed that the district was not receiving federal and state foundation money that it thought it was, Vindicator files say.
In March, the Ohio Department of Education told the district that Obermiyer was not reconciling her financial reports with bank statements. Obermiyer resigned in April, shortly before the district, which had a $1.9 million deficit, went into fiscal emergency, the Vindicator reported.
Donie said Friday that debt the district incurred before it went into fiscal emergency also contributed to the financial crisis.
Now, the district is paying off that debt.
One of two tax anticipation loans, which has a balance of $335,000, will be paid off this year, he said. The second, with a balance of $1,065,600, will be paid off next year.
The district also must pay back a solvency assistance loan to the state, Donie said. It has a balance of $960,600.
An Ohio HB 264 energy savings loan, which the district used to improve energy efficiency in its buildings, must be paid back also. That balance is $2 million, he said.
"There's supposed to be enough savings to make it worthwhile," he said.
Donie said the district is "headed in the right direction."
Its latest five-year fiscal forecast shows positive balances for three years, then shows negative balances for the last two.
That is the case with every Ohio school district, Watson said. Because of the fiscal emergency status, though, the state wants to see balanced budgets five years out for Liberty, he said.
Watson said the district will have no problem making loan payments.
He pointed out that the district has made substantial cuts.
"It was an $18 million operation and now it's a $14 million operation," he said. "It's a pretty miraculous turnaround."