Curbstone Coaches honor Baugher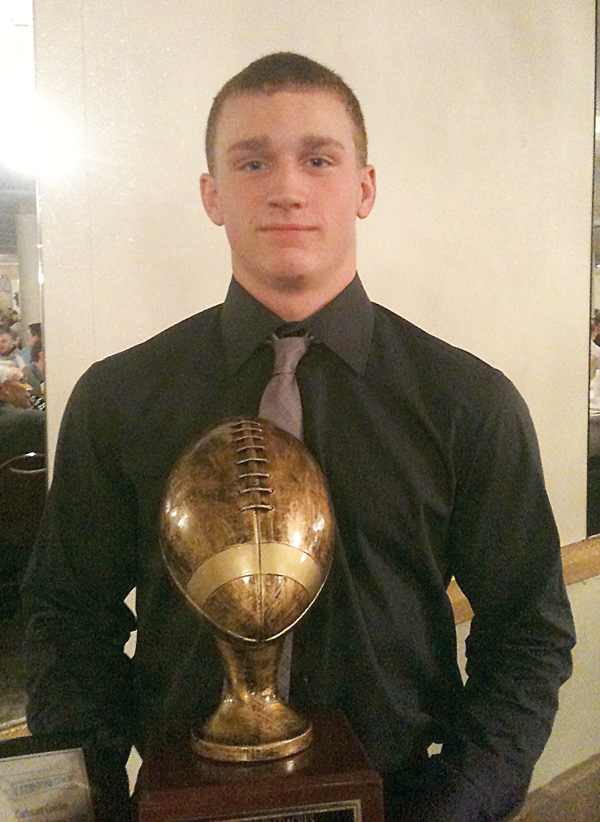 Photo
Brendan Baugher of Southington poses with the Curbstone Coaches' Byrd Giampetro Scholarship Award during ceremonies at their annual all-league football recognition banquet Sunday at The Georgetown in Boardman.
By Greg Gulas
BOARDMAN
Last season, Southington High School won five of its first eight games and earned a trip to the playoffs for the first time in 12 years.
It was the most victories for the program since 2009 and senior fullback-linebacker Brendan Baugher was a big reason why.
The team's leading tackler the past two seasons was awarded the Curbstone Coaches' Byrd Giampetro Scholarship Award during ceremonies at their annual all-league recognition banquet Sunday at The Georgetown banquet center.
It's an award he had no idea he was receiving.
"This award really means a lot because it takes into consideration what you do both on and off the field," Baugher said. "My mother [Ragine] is our church youth group leader and she got me involved in community service at a very early age. My father [Robert] always told me to work hard, be the best that I can be and I have his work ethic. Also, I want to say thank you to my head coach, Ryan Slone. He's been a great role model for not only me, but the entire team and he is the reason I do the things that I do."
The banquet also honored first-team all-league football selections from the All-American Conference and Inter Tri-County League, as well as players who earned all-district honors.
"It's very special when you look out into the audience and see all of the student-athletes who have assembled; future leaders who have excelled not only on the field but in the classroom and away from the field of play as well," said banquet chairman Sam Rogers.
Baugher is a 4.0 student who sits atop his class academically. He earned a 33 composite on the ACT and is a member of the Beta and Spanish clubs.
A member of the Academic Prep Bowl for three years, he has made the trek to both Cleveland and Wilkes-Barre, Pennsylvania to perform home repairs for those in need.
He has volunteered to serve holiday meals at the Warren Family Mission and was a member of the Northeastern Athletic Conference All-Academic all-sports team.
"I want to know my team, not only as football players but as people and it was evident from the outset when I became coach three years ago that Brendan was very special," Southington coach Ryan Slone said. "You look up the term student-athlete in the dictionary and you will find his picture. I knew that he would help us build our program and he's done just that, leading by example vocally and on the field. He's the reason I enjoy being a coach and while he says that it is an honor to play for me, I feel that the honor is all mine in being his coach."
In order to be considered for the award a student-athlete must have earned a 2.5 grade point average or better, must detail all in-school and out of school activities and submit three signed letters of recommendation from the school.
Baugher, who hopes to attend Ohio State in the fall and study veterinary medicine or agriculture, received a $1,000 scholarship which will be applied toward his tuition.
YSU assistant football coach Ron Stoops served as guest speaker, stumping for head coach Eric Wolford who was in Florida recruiting.
"I want to applaud you for carrying on the rich football tradition in the Mahoning Valley," Stoops told the honorees. "Those in the know respect Ohio football, especially in the northeastern part of the state. You are the best of the best."
Other award finalists, all of whom received plaques, included Bryce Allen (South Range), Alec Buchenic (Canfield), Nick Cardiero (Girard), Gabe Crowe (Springfield), Jeremy Fitzpatrick (Jackson-Milton), Justin Journey (Lakeview), Nicholas Pollifrone (Struthers), Jacob Wolf (Poland) and Charles Zaborsky (Austintown Fitch).