Mineral Ridge pulls away against Crestview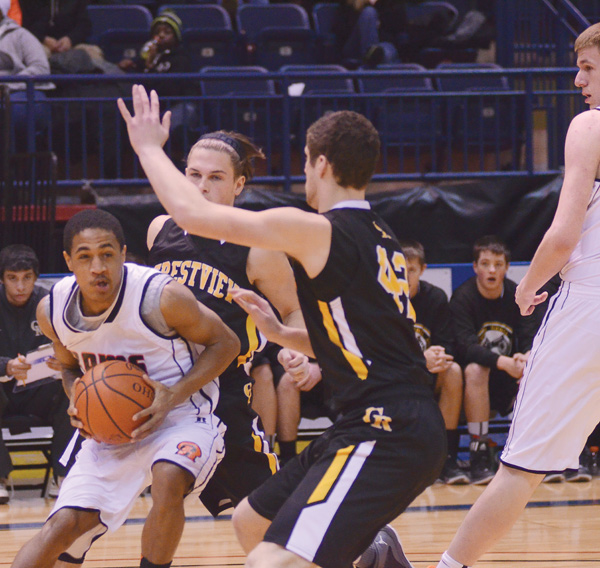 ---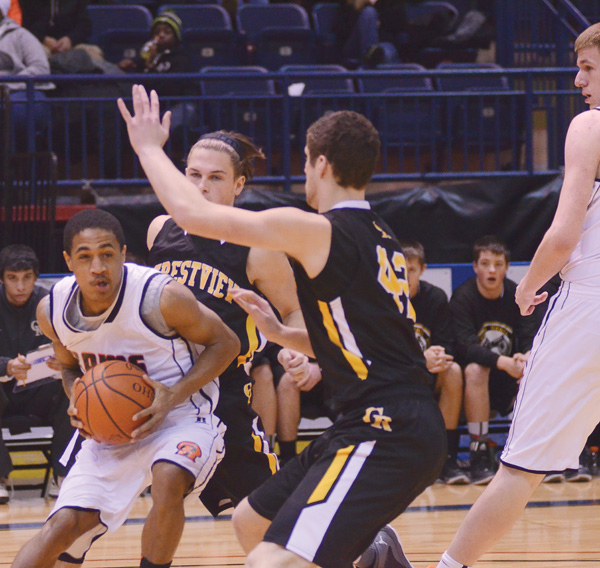 Photo
Mineral Ridge's Corey Phillips looks for a way around Crestview defenders Eric Lloyd (42) right, and Collin Gilbert, back, during their game Sunday at the annual Laricca's "See Them Rise" High School Basketball Showcase at the Covelli Centre. The Rebels rallied in the second half behind Josh McDade and Evan Beachler, but came up short against the Rams, losing 57-47.
YOUNGSTOWN
After his team fought off a third-quarter rally from Crestview to win 57-47 Sunday at the Covelli Centre, Mineral Ridge coach Chris Kohl joked that the Rams just wanted to make it interesting at his expense.
"Thank god we righted the ship there in the fourth quarter," Kohl said with a smile. "Boy I'll tell ya, I don't have too much more hair to lose."
The Rams held a double-digit lead for most of the first half, but the Rebels came out firing in the second. Evan Beachler hit three of his four 3-pointers in the third as Crestview cut the deficit to four entering the fourth quarter.
Then, down just two, Josh McDade drove to the basket for a layup and was fouled, giving him a chance to put his team ahead for the first time. He converted the foul shot to put the Rebels up 39-38.
"We didn't transition in the first half and they were able to set their zone," Crestview coach Herman Miller said. "I thought in the second half we got outlets, we got down the floor, and we got some scores when their defense wasn't set."
That's when Mineral Ridge's Zac Hagy decided to take matters into his own hands, much to the pleasure of his head coach. The versatile senior scorer had five baskets in the final quarter giving him a game-high 23 points.
"He needs to be our leader," Kohl said. "Kids look towards him to be the leader and he did that today. He's pencil-thin but he's not afraid."
This year Hagy has a sidekick, too. After taking last year off to focus on football, senior Ryan Nutter came back to the hardwood for one more year with his teammates. A little begging from Kohl didn't hurt either.
"He's been really special for us," his coach said. "He just plays great defense and you can't find too many guys that look at defense first and scoring second."
With that approach Nutter scored 16 points, had seven rebounds, and got three big steals late in the game.
"They just turned their backs and let up on the ball, so I took advantage of it," Nutter said. "It's taken me a little bit to get my shot back, but I feel like it's coming along."
The combination of Hagy, who pulled down 10 boards to go along with his 23 points, and Nutter was something Crestview ultimately didn't have an answer for.
"Do we have anybody who's truly the right design to match up with them? No," Miller said. "This game is really a microcosm of our season."