50th anniversary leads to Bartolis' family festivities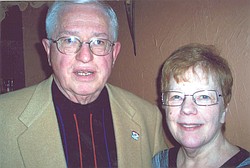 Photo
Mr. and Mrs. Robert Bartoli
BOARDMAN
Robert and Patricia Bartoli, along with their immediate family, celebrated their 50th wedding anniversary at Caff Capri.
Patricia Holzschuh married Robert Bartoli on Jan. 18, 1964, at Sacred Heart Church in Youngstown.
The couple have a daughter, Karen Gulling, a son-in-law, Patrick, and three grandchildren, Justin, Brittany and Kimberly, all of Poland.
Mrs. Bartoli retired as a bookkeeper from St. Columba Cathedral and St. Charles Parish. Mr. Bartoli was vice president of Anchor Cigar and Candy Co. before retiring as manager of special projects at the Albert Guarnieri Co.