Party honors Franklins' golden mark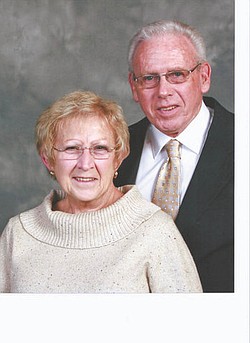 Photo
Mr. and Mrs. Bob Franklin
CANFIELD
Mr. and Mrs. Bob Franklin of Canfield were honored Jan. 5 for their golden anniversary at a party at Caff Capri in Boardman. Hosting the event were their children, Tom Franklin and Patrick and Kim Chaplow, and Mrs. Franklin's sister, Ellen Sabatino Walt.
The family includes four grandchildren, Ashley Franklin and Michael, Erin and Danny Chaplow.
The couple also renewed their wedding vows, and the Rev. Duane Jesse officiated.
The former Georgiann Sabatino and Mr. Franklin were married Jan. 6, 1964, at St. John's Episcopal Church in Youngstown.
The couple are members of Zion Lutheran Church in Cornersburg.
Mrs. Franklin retired from Youngstown Osteopathic Hospital in 1995 after 30 years of service as a registered nurse. She later worked for Shepherd of the Valley and Maxim Healthcare.
Mr. Franklin retired in 2000 from General Motors, Lordstown, where he was a pipefitter in the assembly plant for 30 years. He is a member of United Auto Workers Local 1112.