Mr., Mrs. Ballas celebrate 65th year of marriage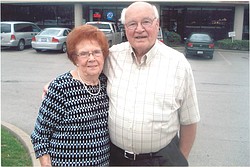 Photo
Mr. and Mrs. Edwin M. Ballas
NEWTON FALLS
Edwin M. and Helen S. Ballas of Newton Falls marked the 65th anniversary of their wedding during a family celebration Jan. 24 at Das Dutch Village Inn, Columbiana, where they enjoyed dinner and a musical play.
Hosts of the festivities were the couple's children and their spouses: Sherry (Ed) Freisen of Newton Falls, Linda Ballas of Toledo and Cindy Ballas (Gary) Gray of Cortland.
Their two sons, John David Ballas and Ronald E. Ballas, are deceased.
Mr. and Mrs. Ballas have three grandchildren, Kalin (Jeff) Myers, Andrea (Ben) Gumont, and Bethany (Doug) Hughes; and eight great-grandchildren, Allie and Emma Gumont; Olivia, Grant and Karlee Myers; and Brady, Avery and Addison Hughes.
Mrs. Ballas, the former Helen S. Smith, and her husband were married Jan. 15, 1949, at Newton Falls Methodist Church. The couple are members of Newton Falls First Church of God.
She retired from a quality control position at General Electric in Warren. She is an activity coordinator for the Golden-Agers at the church.
Mr. Ballas retired from Republic Steel in Warren, where he was a carpenter. He is a Sunday school teacher and is serving his 16th year on the Newton Falls School Board. He was a member of the Democratic Club, was a precinct committeeman and was president of Steelworkers Union Local 1375.