Burke-Gerberry vows will be exchanged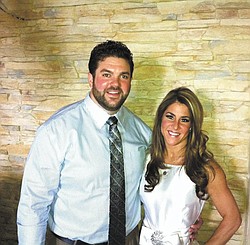 Photo
Daniel S. Gerberry and Jaclyn A. Burke
NILES
Michael P. and Darlene Burke of Niles are announcing the engagement of their daughter, Jaclyn A. Burke of Niles, and Daniel S. Gerberry of Austintown.
His parents are Ronald V. and Kathryn Gerberry of Austintown.
Our Lady of Mount Carmel Church will be the setting of the open wedding at 1 p.m. Feb. 15. Invitations will be extended for a reception that will follow at Avion on the Water in Canfield.
The bride-elect is a graduate of Ohio State University, where she earned a bachelor's degree in biology and a master's degree in education. She is a science teacher at Boardman High School.
Her fiancé earned a bachelor's degree in physical education and health sciences from Ball State University. He is a football coach at Youngstown State University.