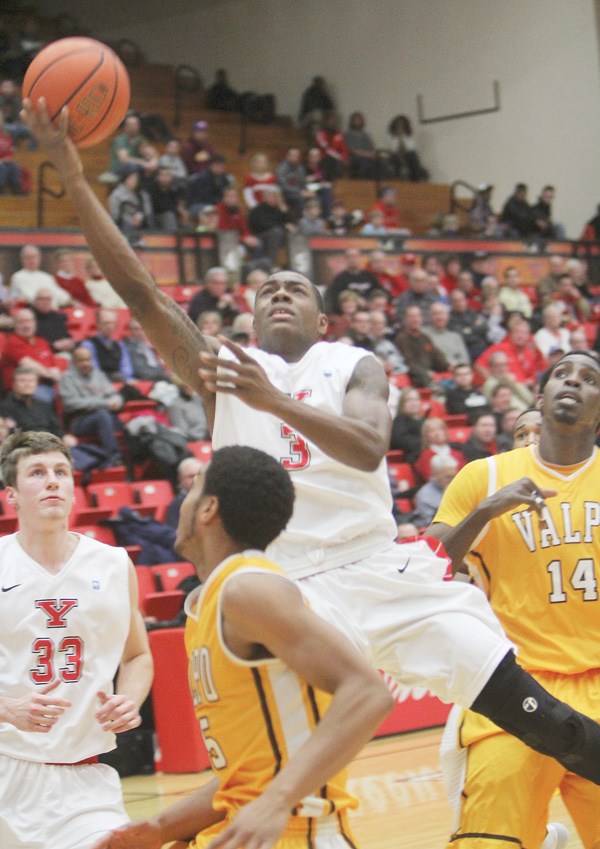 ---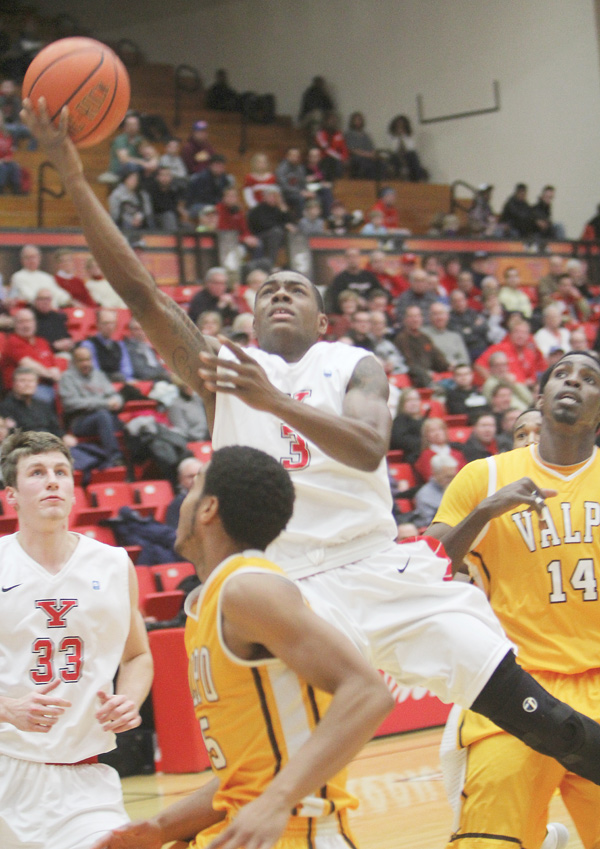 Photo
Youngstown State's Kendrick Perry puts up a layup over Valparaiso defender Lexus Williams during their game Thursday at YSU's Beeghly Center. Perry was one of four Penguins in double digits, but YSU fell, 74-71, to the Crusaders.
Penguins' late rally comes up short
By Joe Catullo Jr.
YOUNGSTOWN
Youngstown State's Kendrick Perry nailed an off-balanced 3-point field goal with 1.8 seconds remaining, cutting the Penguins' deficit to Valparaiso to one point.
During the shot, Perry was struck on the left arm but no foul was called.
The Crusaders added two free throws late for a 74-71 win on Thursday at Beeghly Center.
"I can't comment about officials. It was a good play," YSU coach Jerry Slocum said.
Perry was not on the court during the final sequence — he sat so he would not pick up his fifth foul. Before the Crusaders could inbound the ball, Marcus Keene fouled Carter. Perry could not re-enter because no time was taken off.
Carter made his two free throws, then the Penguins' DJ Cole attempted a half-court, one-handed 3-pointer that fell short.
YSU (12-9, 3-3 Horizon League) lost a nine-point halftime lead early in the second half. The Crusaders (12-9, 4-2) cut the deficit to four within the first 1:05 of the half before tying the game at the 15:27 mark.
They later took their first lead since the 13:29 mark in the first half.
"We did not play well in that first seven minutes of the second half," Slocum said. "We, obviously, did a really good job in the first half.
"I thought we did really bad in terms of our defensive rules. They made a couple of shots, and then we were off to the races."
Trailing 47-42 with 12:29 remaining in the contest, the Penguins caught a break. LaVonte Dority, who finished with a game-high 27 points, collected his fourth foul. YSU bolted on an 8-0 scoring run, giving them a two-point lead. When Dority returned later on, it turned into a back and forth battle.
"I'm very disappointed with our play of consistency tonight," Slocum said. "At times, we played very, very well. Other times we played very poorly."
Another contributing factor to the defeat was rebounding. Valparaiso collected 35 while the Penguins tallied 20. The Crusaders also nabbed 12 offensive boards, which led to 14 second-chance points and added to their 36 points in the paint.
"It was very disappointing to give up that many second-chance points," Slocum said. "We were absolutely horrific in terms of boxing out and rebounding."
YSU's Bobby Hain finished with 16 points and eight rebounds, both team highs. Perry scored 15, his 28th straight game in double figures, while Ryan Weber had 14.
Perry struggled from the charity stripe, making just two on eight attempts. The other Penguins combined for 23 free throws on 24 attempts.
For the Crusaders, Jubril Adekoya finished behind Dority with 13 points. Moussa Gueye scored 11 while Carter had eight.
The loss drops YSU to fifth place in the conference.