Student delegates selected for 2014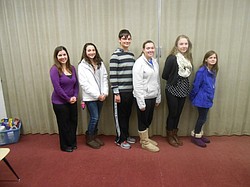 Photo
Neighbors | Submitted.Students were also selected at the middle school level to represent Youngstown at the delegate exchange. Pictured, from left, are Jaclyn Elias (leader), Laurel Brothers, Michael Hartman, Jennie Gresley, Sarah Cole and Hannarose Lowther.Missing from photo: Seema Patel (Grove City, Pa.)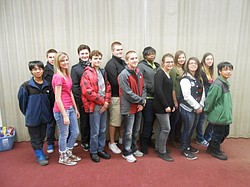 Photo
Neighbors | Submitted.High school delegates selected to represent the greater Youngstown area as Delegates in the 2014 European Heritage High School Delegation include, from left, (front) Simon Weiss, Taylor Phillips, Joseph Gaffney, Andrew Pasco, Kelly Tennant, Sarah Stevens, Solomon Weiss; (back) Zachary Quear, Ryan Scott, Brandon James, Talayzia James, Julia Plunkett and Emma Minamyer.
Delegates for the Youngstown Area International People to People Student Ambassador Programs were recently selected.
The students chosen to represent the area 2014 European Heritage High School Delegation are Simon Weiss (South Range), Taylor Phillips (Austintown), Joseph Gaffney (Jackson-Milton), Andrew Pasco (Salem), Kelly Tennant (LaBrae), Sarah Stevens (Badger), Solomon Weiss (South Range), Zachary Quear (West Branch), Ryan Scott (Champion), Brandon James (Salem), Talayzia James (Liberty), Julia Plunkett (Badger) and Emma Minamyer (Salem).
Student delegates from the middle school will include Laurel Brothers (Negley), Michael Hartman (Canfield), Jennie Gresley (Lakeview), Sarah Cole (Lakeview), Hannarose Lowther (Austintown) and Seema Patel (Grove City, Pa.).
During the 20 day program, these students will visit England, France, The Netherlands, Belgium, Austria, Germany and Switzerland.
While on this adventure, the delegates will ride on an alpine roller coaster, trace heroic footsteps along the beaches of Normandy and make friends with a German family during a home stay. They will meet with a member of British Parliament and go behind the scenes to explore European cathedrals and mysterious castles. They will ride the London Eye while in England and climb the Eiffel Tower in Paris, France.
During the next six months, these students will be learning and preparing themselves to experience these countries in ways that will inspire the imagination, feed their curiosity and give them a new perspective on this part of the world.
If you would like to support any of these students in this quest, contact Harold Wilson, the high school delegation leader from Austintown at 330-799-4871. Students participating in this program are currently working to obtain funds and donations via various fundraisers and activities.
The leader for the middle school delegation is Jaclyn Elias.