Horse stalls stall permits at Austintown racino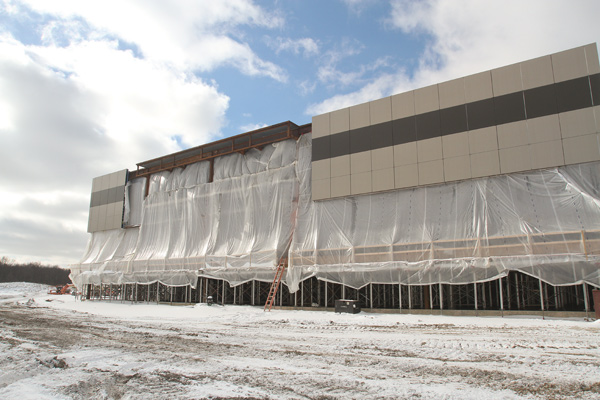 ---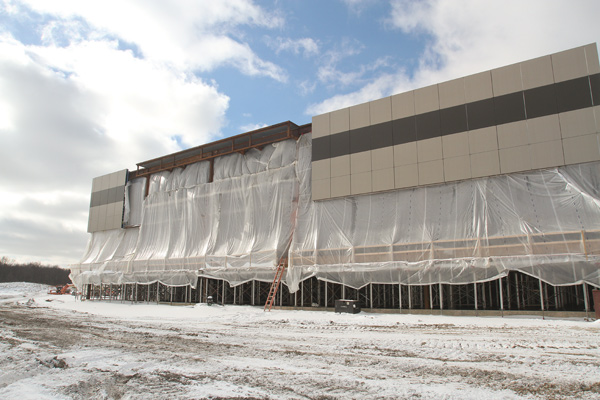 Photo
Construction on Hollywood Gaming at Mahoning Valley Race Course continues. It is projected to open in the fall.
By Marc Kovac
COLUMBUS
The Ohio Racing Commission and Penn National Gaming remain at odds over horse stalls at a new Austintown racino, despite perceived assurances that the issue was resolved.
"Again, I'm disappointed with Penn Gaming," commission Chairman Robert Schmitz said after failing to get a straight commitment from Penn National for more stalls at the Youngstown-area track. "I'm very, very disappointed. I'm looking for the right answer, and so far I'm getting a conditional answer."
In December, Penn and the Ohio Horsemen's Benevolent and Protective Association told the racing commission they had reached an informal agreement to build 988 horse stalls in Austintown Township — 13 barns with 76 stalls in each.
Schmitz indicated at the time that the racing commission would be prepared to move forward with Penn's permit once a formal contract was finalized.
Mark Loewe, Penn National's vice president of racing operations in Ohio, said Thursday that Penn and the horsemen's group have not yet completed the agreement, however, and could not commit to building more stalls until it was signed.
"We have not committed to the 988 stalls," Loewe said, adding, "We will build 988 stalls once we have an agreement with the [horsemen's association]."
That wasn't the answer Schmitz was seeking, telling Loewe that another Penn official had committed to the stalls without any conditions.
"We are appalled," Schmitz said. "I was under the opinion, based upon this email [from another Penn executive], that you were going to build 988 stalls. ... Without 988 stalls, you will not get a permit to race. Do you understand that?"
Lisa Oles, Austintown Township trustees chairman, also was not happy to hear of another step Penn must go through for the racino.
"It's one hurdle after another," she said. "It's amazing what different groups will do to keep jobs from coming to the area. Let's stop trying to control every single aspect to the project."
Penn initially planned to construct 10 barns, each containing 76 stalls, at its Austintown racino, but commission members said that wasn't enough to accommodate horses at the site. The new facility, they said, should have closer to 1,000 stalls, comparable to what other tracks in the state have in place.
Mark Munroe, of the Ohio State Racing Commission and the Mahoning County Republican Party chairman, said there is still plenty of time to handle any issues, and progress is "not being held up" at the racino site.
"There is every expectation that these final issues will be put to paper, signed off on and move forward," Munroe said. "Any suggestion that there is a new obstacle, I think, is unfair. We have plenty of time to work out the details."
Munroe said he was able to see the results of efforts made by the racing commission to enhance the facility from the horse stalls to the van seating when he recently toured the site.
"Austintown is getting a much better facility because of [the commission's] efforts," he said.
Commission members have questioned Penn officials for months on the issue and delayed final approval of racing dates. The latter permit is required for the gaming company to offer video lottery terminals at the site.
Penn already has begun construction of the Austintown facility, Hollywood Gaming at Mahoning Valley Race Course, with plans for video-slots gaming to open for business in late summer or early fall. The company has submitted an application to offer live racing at the site starting Nov. 1.
The issue will be discussed again at the racing commission's February meeting.