Canfield wrestlers take second at Pin City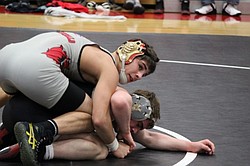 Photo
Neighbors | Submitted.A Canfield wrestler is pictured attempting to pin a rival competitor at the recent Pin City wrestling tournament, hosted by Perry.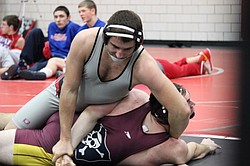 Photo
Neighbors | Submitted.The Canfield wrestling team recently competed at the Pin City Wrestling tournament. The team came in second place with a score of 336.
The Canfield High School wrestling team recently traveled to the Perry Pin City tournament and came with two individual champions and a second place finish in the team standings.
Georgio Poullas captured the 126 pound crown while Jacob Esarco finished atop the podium at 220. Perry won the team title with 404 points, followed by the Cardinals at 336 and Akron SVSM at 306 in the 17 team field. Freshman standout Georgio Poullas routed Koontz of SVSM 9-0 while sophomore Esarco edged Al-Najjar of N. Olmstead 5-3 to win championships.
Other placers for the Cards were Kyle West (second) at 113, Korey Frost (third) at 120 after losing a 6-5 decision to highly ranked Colin Dees of Perry in the semifinals, and seniors Shawn Williams and Stan Socha, who were third at 145 and 182, respectively.
Finishing fourth for Canfield were sophomores CJ Frost (138 pound) and Jaret Bunch (195 pound). Freshman Tanner English decked his opponent at the 1:54 mark of the first period to finish fifth at 106, while senior Stephen Daprile won 8-0 to finish fifth at 132. Senior Bryan Batton rounded out the Cardinal placers with an eighth place finish in the 152 pound weight class.