Deep freeze keeps kids from Phantoms School Day Game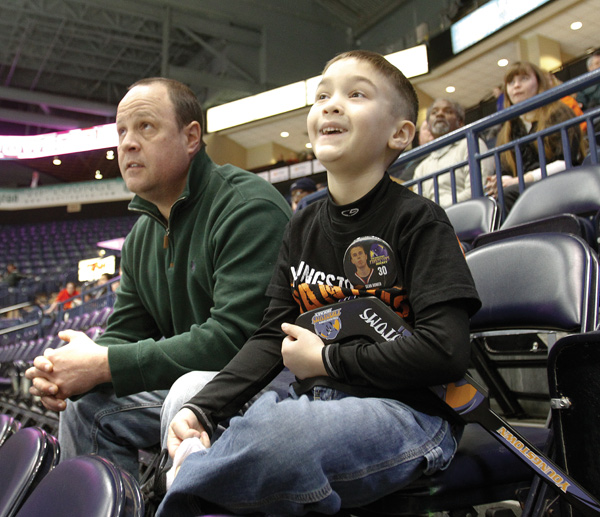 ---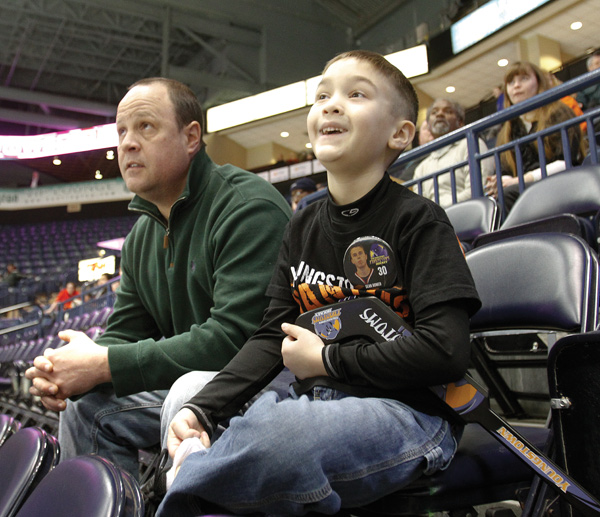 Photo
Chris Litton of Youngstown and his son Jack, 6, were among the few hardy souls who braved the brutal weather to watch the Youngstown Phantoms take on the Indiana Ice at the Covelli Centre in downtown Youngstown at the local hockey team's annual School Day Game. The weather caused many schools to cancel classes, and few students were able to make it to the center for the 10:15 a.m. contest Wednesday. The Phantoms have set another School Day Game for March 21, when the home team will skate against Team USA.
By Sean Barron
YOUNGSTOWN
Sarah Meade enjoys a consistent regimen of walking, running and playing basketball, but Wednesday, her eyes got quite the workout.
"It's fun to watch people bang into each other. We were laughing hysterically," the 13-year-old eighth-grader said, referring to having attended Wednesday morning's Youngstown Phantoms hockey game at the Covelli Centre.
Sarah, who is home-schooled, is part of Teens & Tweens Home School program, one of a handful of students who attended Wednesday's annual School Day Game, in which the Phantoms played the Indiana Ice. The Phantoms lost 7-4.
As of last Friday, an estimated 4,800 students from area schools were to have attended the game, but only about 110 students from a handful of schools came since most were closed or delayed because of subzero temperatures, said Brian Wojtowicz, the team's vice president.
The contest, themed "Hockey for Health," had an unusual start time of 10:15 a.m. and was intended to give local students an opportunity to see a Phantoms game as a field trip, organizers said.
In addition, the event was to promote and educate youngsters on healthful eating practices and the importance of regular exercise.
Exercise also is valuable to 15-year-old Andy Gretsinger of Boardman, who attends a Phantoms game roughly every two months and takes karate lessons twice weekly.
"I always thought [hockey] was pretty cool," said Andy, a ninth-grader at Ohio Virtual Academy, an online school.
The Phantoms announced Wednesday the makeup School Day Game has been moved to the Phantoms' previously scheduled game March 21 vs. Team USA.
The game time, which was set for 7:05 p.m., will be changed to a 10:15 a.m. start.
Schools interested in attending the makeup game can go to the team's website, www.youngstownphantoms.com or call Kim Boccia, marketing coordinator, at 330-746-5258 or 330-747-7825.