Foundation gives supply bags to students in memory of Campbell teacher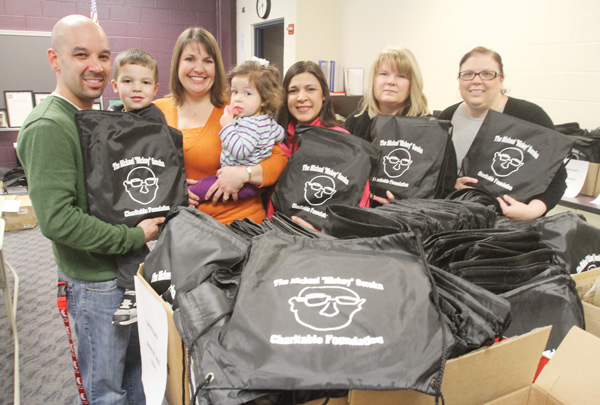 ---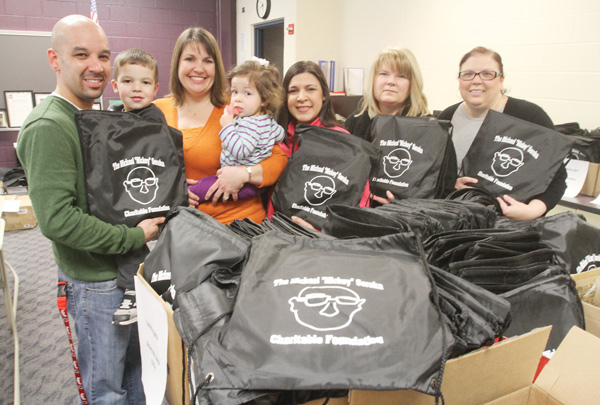 Photo
Posing with school-supply bags to be distributed to students in Campbell City Schools are members of The Michael "Mickey" Soroka Charitable Foundation, from left, Eric Gonzalez, holding son, Gavin, 4; Carmel Gonzalez, Eric's wife, holding their daughter, Elena, 1; Jennifer Kavouras, Rena Regula and Andrea McGoogan. Foundation members gathered Wednesday to fill bags to be distributed district wide Friday, weather permitting. The foundation was founded to carry on the legacy of Soroka, a Campbell High School teacher who went out of his way to help students whether they were enrolled in his classes or not. Soroka died in 2011 at age 49.
By EMMALEE C. TORISK
CAMPBELL
Not long after Michael "Mickey" Soroka died suddenly in April 2011 at age 49, friends and family members knew they had to continue his legacy of giving back to students.
So, just weeks later, they formed a charitable foundation in his name to ensure that it would not soon be forgotten by the students and staff at Campbell City Schools.
The foundation's most recent effort cements this original goal: In large, white letters, "The Michael 'Mickey' Soroka Charitable Foundation" — along with its logo, a simple line drawing of the bespectacled Soroka — appears on about 1,300 black drawstring bags that have been filled with school supplies and will be distributed to students districtwide Friday, weather permitting.
"We want to keep his memory alive through helping students in the manner that he did," said Rena Regula, a foundation board member and trustee. "We want to keep that going."
Regula added that Soroka, a lifelong Campbell resident and 1980 graduate of Campbell Memorial High School, would consistently go out of his way to help students enrolled in his upper-level mathematics, computer science, multimedia and technology courses.
But Soroka, who began teaching in Campbell in 1990, also was available to those who weren't formally assigned to him, such as former students who struggled to grasp the material in their college math classes.
He was there for them all, Regula said, and often stayed at school late into the evening to make sure that every student who wanted help got it.
That's why foundation members elected to sponsor a replenishment of school supplies for students all the way from preschoolers to high-school seniors, said Eric Gonzalez, an assistant technology director at Campbell who was a close friend of Soroka's.
"We needed to touch everybody somehow," said Gonzalez, who is a member of the foundation.
He added that the supplies in each bag — which include notebook paper, folders and pencils — were tailored to the needs of each grade level and were purchased in the past few weeks by the foundation for a total cost of about $6,500.
High-school students who appeared on the honor roll for both of the first two grading periods this academic year also will soon receive a jump drive from the foundation.
Jennifer Kavouras, who teaches English as a second language at Campbell and belongs to the foundation, recalled Soroka as "one of the best teachers" she's ever encountered.
His math class was one that students never missed and always wanted to attend, Kavouras said, because he "had a way of keeping you interested and wanting to learn about what he was teaching." Plus, he was always there to share words of wisdom or to lend a helping hand.
"We want people to know who he was," Kavouras said, "and how important he was to our district."
The Michael "Mickey" Soroka Charitable Foundation will next host "Stacks for Soroka," a pancake breakfast, from 9 a.m. to 1 p.m. Feb. 23 at the Palermo Banquet Center, 394 Tenney Ave. Tickets are $6 for adults and $3 for children 10 and under. All proceeds will go directly to the foundation, and in particular to funding its two scholarships and helping the students of Campbell City Schools.
For more information, visit the foundation's website at www.sorokafoundation.org.