Valley Health officials warn of weather risks, urge supplies in car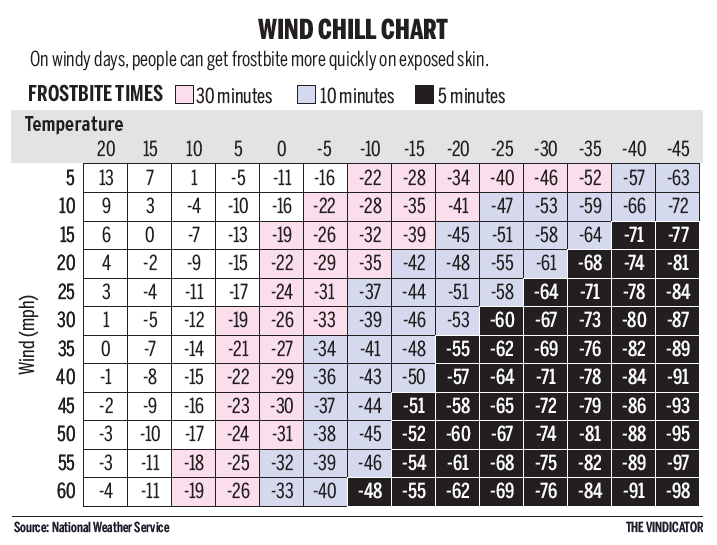 ---
and David Skolnick
AUSTINTOWN
The Mahoning County Public Health Department is warning residents of the risk of hypothermia and frostbite during the unusually cold weather forecast for this week and beyond.
Hypothermia occurs when the body's core temperature drops below that required for normal metabolism and body functions.
The Mahoning Valley had another record low temperature for the month when it dropped to minus 6 degrees Wednesday.
The temperature, reached at 8:07 a.m., tied the record low for Jan. 22, set in 1970.
It's going to get warmer these next few days, but it will still be unseasonably cold, said Tom King, a meteorologist with the National Weather Service in Cleveland.
"It's going to go on and on and on with the cold air continuing into next week," he said. "The long, long-range forecast is for more of the same for the remainder of the month at least."
The low today is expected to be 1 degree, around 10 to 15 on Friday, 0 to 5 degrees Saturday and Sunday, according to the NWS forecast. The low for Monday is expected to be minus 5 to zero.
"Most of the next few days, the high will be single digits to the mid-teens," except Saturday with a high in the mid-20s and Sunday with a high around 20, King said.
The average temperature in the Mahoning Valley for this time of the year is about 26 degrees.
Earlier this month, the Valley had record low temperatures.
On Jan. 6 and 7, the area's low was minus 11. The previous record lows for those days were minus 2 and minus 6, respectively. The previous record lows for those days were both in 1988.
NWS keeps official weather records for the Mahoning Valley at the Youngstown-Warren Regional Airport in Vienna.
Despite the cold, another problem parents face is hyperthermia or heat stroke. It can be a danger in frigid weather for babies whose parents overbundle them.
Babies cannot get rid of the heat, Dr. John Venglarcik III, county health department medical director, said at Wednesday's health board meeting.
Hyperthermia is elevated body temperature that occurs when a body produces or absorbs more heat than it dissipates.
Parents need to keep their children warm, but overbundling with multiple layers of clothing and blankets also can be dangerous, Dr. Venglarcik said.
He said the under-20 generation may be at particular risk because the last time there was a cold snap of this severity was in 1994, and they may not be familiar with the danger and how to protect themselves.
"It's really the face, toes, hands and ear lobes — exposed areas — that can most easily get frostbite," Dr. Venglarcik said.
He urged people to be aware that children with chronic illnesses require special precautions. Prolonged exposure to cold air can spark an asthma attack, he said.
He said people should keep heavy coats, hats, gloves and blankets in their cars in case they run out of fuel or slide into a ditch and have to wait a long time for help to arrive. Also, keep the fuel tank full.
"If you are not prepared, it could be deadly," he said.
The bottom line, Dr. Venglarcik said, "is if you don't have to go out, don't."
The WebMD website offers these suggestions for frostbite treatment.
Call 911 if a part of the person's body or skin is turning white and hard or black.
Seek medical care promptly.
Until you can see a doctor:
Get the person to a warm place and remove any wet clothing.
Unless absolutely necessary, the person should not walk on frostbitten toes or feet.
Do not rewarm the skin until you can keep it warm. Warming and then re-exposing the frostbitten area to cold air can cause worse damage.
Gently warm the area in warm water (not hot) or with wet heat until the skin appears red and warm.
Do not use direct heat from heating pads, radiator, or fires.
Do not rub or massage the skin or break blisters.
Loosely apply dry, sterile dressings.
Put gauze or clean cotton balls between fingers or toes to keep them separated.