Published: Wed, January 22, 2014 @ 2:55 p.m.
Video Set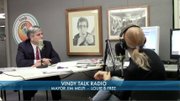 Girard Mayor Jim Melfi discusses Vallourec Star, steel, paving and politics with Louie b. Free.
Girard mayor Jim Melfi joins Louie b. Free to chat about demolitions, unionization talks at Vallourec and Girard's recent drop in income tax revenues.
Go to vindy.com/radio to listen to the show live, or vindy.com/mobile/vindy-radio to listen from your smartphone.
Click here to listen to the show. Follow @VindyRadio on twitter for live tweets from the show and beyond.
Vindy Talk Radio Studio: 330-333-4454