Published: Wed, January 22, 2014 @ 9:26 a.m.
Heidi Schlegel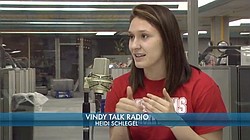 Video Set
We'll be chatting about sports on Vindy Talk Radio at 4:15 p.m. Jan. 22.
YSU women's basketball player Heidi Schlegel will visit with us on VTR. Schlegel is leading the Penguins in scoring (19.4 points per game) and is tied for the team lead in rebounds (7.1). YSU is 8-9 overall, but 4-0 in the Horizon League for the first time.
Schlegel, who measures in at 6 feet, is a junior forward who calls Wapakoneta, Ohio home. Vindy sports reporter Kevin Connelly will interview her.
Go to vindy.com/radio to listen to the show live, or vindy.com/mobile/vindy-radio to listen from your smartphone. Watch the best of the discussion with our video clips!
Vindy Talk Radio Studio: 330-333-4454