Residents air community concerns at mayor's first meet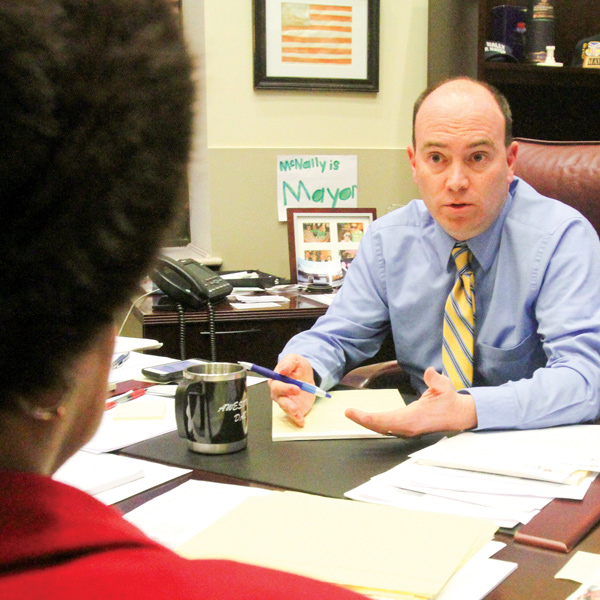 ---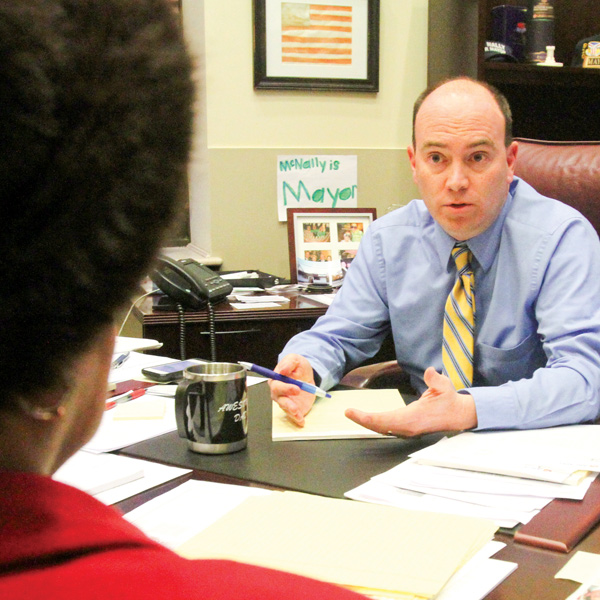 Photo
Youngstown Mayor John A. McNally meets in his office with city resident Connie Timpson during Tuesday's inaugural "Five Minutes with the Mayor" event.
By WILLIAM K. ALCORN
alcorn@vindy.com
YOUNGSTOWN
Some 25 residents showed up at Mayor John A. McNally's inaugural "Five Minutes with the Mayor" Tuesday to talk about everything from potholes to neighborhood blight, ward redistricting and fracking.
A couple of people used their five minutes to just meet the mayor.
"You should do that when you get a chance," said Jason Mauldin of Youngstown.
This is definitely a good idea, said Terry Esarco of Youngstown, who believes this is the first time a Youngstown mayor has done anything like this since former mayor Jack Hunter.
McNally said the "Five Minutes with the Mayor" give citizens as chance to "rant, rave or praise or have a quick cup of coffee with the mayor. It gives more people access to city hall and the mayor to talk about their concerns," he said.
The press was denied access to all but one of the mayor's visitors, Connie Timpson of Antioch Baptist Church, who thanked McNally for his concern and welcomed him as mayor.
Timpson, a member of the block watch in her area, said her biggest problem is vacant houses and sex predators and drugs attracted by the vacant properties.
"I'm constantly worried about our children," she said.
McNally said he and Police Chief Robin Lees plan to visit all the wards and block watches to learn first-hand about their particular problems.
The mayor said that the "Five Minutes with the Mayor" program was going very well, and that people wanted to talk about pot holes, international business development and fracking in Youngstown and Mahoning County.
Maggie Lorenzi of Youngstown, among the people waiting in line to see McNally, said she wants to see any conflicts of interest eliminated, saying she believes that there are city employees that are benefitting from city business.
Jack Slanina of Youngstown said he wants to see wards redistricted, something he said hasn't been done for 30 years.
Nikki Saunders of Youngstown, who dispatches for the fire department, said she planned to ask McNally to consider some additional hiring. "We're getting a little bit short-handed," she said.
Gus Lambert Jr. of Youngstown hoped to direct the mayor's attention to some abandoned properties by his home that are being used for a dump.
"I want to see if the properties can be demolished," he said.
"Fire Minutes with the Mayor" will be the third Tuesday of the month starting at 5 p.m. The next two events are Feb. 18 and March 18.