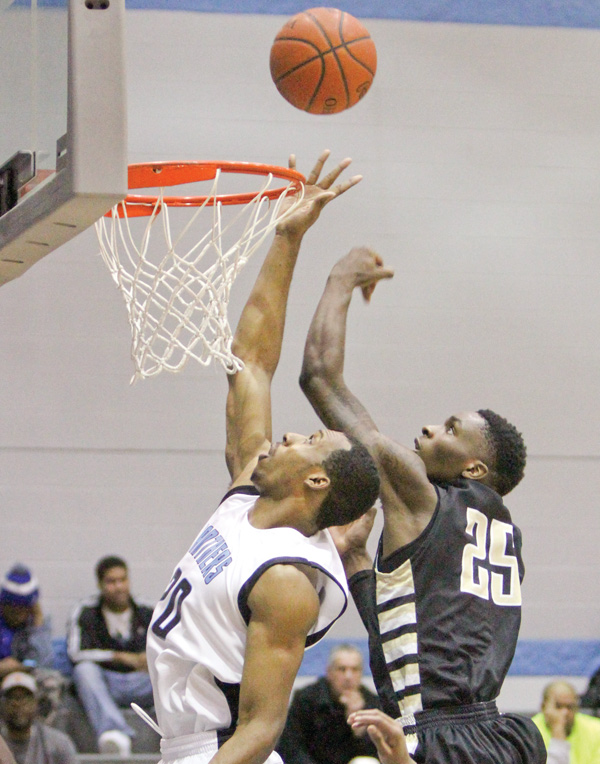 ---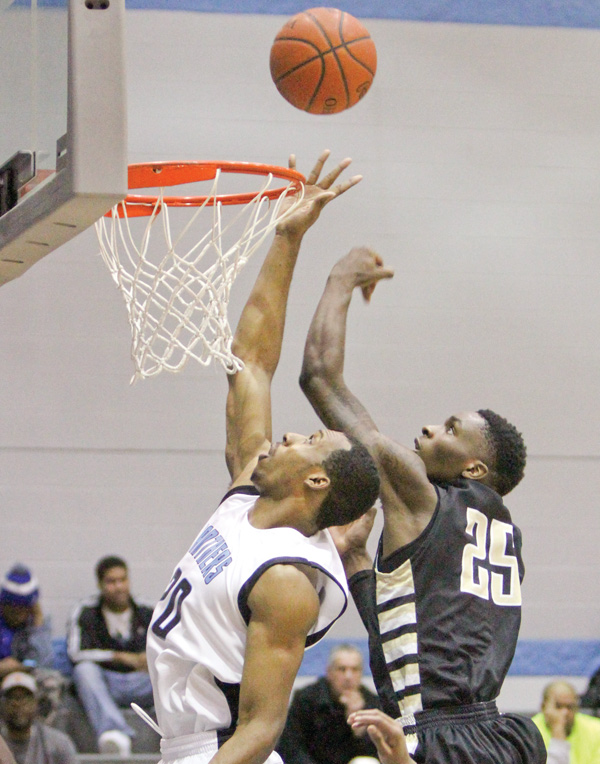 Photo
East's Terrell McLain puts up a shot while Warren Harding's Shondell Jackson defends during their game Tuesday at East High School. The Raiders routed the Panthers, 83-53.
Harding avenges last year's
tournament loss to East
By Steve WILAJ
YOUNGSTOWN
It could be seen in its intensity. It could be seen in its aggression. And it could be seen on the final scoreboard.
Warren Harding High had a message to send Tuesday night at East High, and the Raiders did just that, dominating the Panthers in a 83-53 victory while avenging last year's season-ending loss.
"We remembered how they did us last year, knocking us out of the playoffs," Raiders forward Shondell Jackson said. "That was big. So we came here to prove who's the best in the area."
After leading just 17-16 through the first quarter, Harding flexed its muscles the rest of the game. The Raiders used a 27-8 second quarter to take control of the contest.
"I just thought we started playing with a really good rhythm offensively," Harding coach Andy Vlajkovich said. "The ball started moving, we started getting some easy ones and kept getting the ball to the right spot against the zone."
Jackson was the recipient of those opportunities early and often, pouring in 26 points for the Raiders (8-5).
"We just played our game — played team ball," Jackson said. "That's what we normally do. We just slowed it down and didn't rush anything."
Especially Jackson, who shot 8 of 13 from the field, including 3 of 5 from behind the arc and 5 of 8 at the charity stripe.
"His consistency has to improve," Vlajkovich said. "He's had some unbelievable games. If we can get him to be consistent — attack the rim, let the 3's come to him, play in the flow of the game — then he's a really nice player. He has 25-point talent."
Anthony Bell added 17 points off the bench, while Shakem Johnson and Jautice McDonald each chipped in seven. Bell is still working his way back from an ankle injury suffered earlier in the season.
"He's starting to get back to being healthy," Vlajkovich said. "But he makes us go and he's a big part of what we do."
Vlajkovich was also pleased with his team's defensive energy after the first quarter, holding the Panthers (2-9) to 31-percent shooting (17 of 55) overall.
"Our defensive intensity went way higher [after the first]," Jackson said. "We just wanted to increase the lead as much as we could."
East was paced by Rashawn Boykin's 12 points, while Dalane Brown had nine. Terrell McClain and Jawuan Jones each added eight points.