Published: Wed, January 22, 2014 @ 12:00 a.m.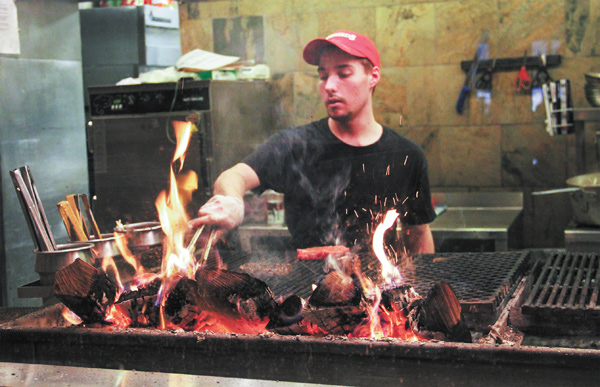 Photo
At Firebirds, guests can observe their meal cooking on the grill through a glass window.
If You Go...
Where: Firebirds Wood Fired Grill
Address: 5555 Youngstown-Warren Road, Niles
Phone: 330-505-9660
Hours: 11 a.m. to 10 p.m. Sunday through Thursday and 11 a.m. to 11 p.m. Friday and Saturday
Website:firebirdsrestaurants.com
By REBECCA NIEMINEN SLOAN
NILES
"You have to try it," she said. "It's superb."
In taking her advice I discovered that superb truly is the operative word.
Known for its authentic wood-fired entrees infused with bold flavors and fresh herbs and spices, Firebirds delivers savory meals in a classy yet casual atmosphere.
The dimly lighted dining area, with its crackling fireplace and spacious, gleaming bar, immediately sets a mood that is rich yet relaxed.
Of course, it's the food that really sets the mood.
"Our motto is freshness," said Ivan Kanewske, chef at the Niles restaurant. "For example, all of our salad dressings are made in-house and all of our steaks are hand-cut daily."
Those steaks are seared to sizzling perfection on an ample grill fueled with a mix of hickory, oak or pecan wood. The grill is visible through a large window in the restaurant's exhibition kitchen so that patrons can observe their entrees being charred to perfection.
But before I discuss entrees, let me spend a moment on appetizers.
My waiter, Mike, recommended the lobster spinach queso as a starter, saying it's one of the most requested appetizers the restaurant serves.
It was easy to see why. This creamy blend of lobster, baby spinach, smoked tomatoes, garlic, shallots and pepper jack cheeses is sublime. Served alongside a blend of colorful tortilla chips, the sauce is delicate with generous chunks of lobster, and the smoked tomatoes lend a distinct, woodsy flavor.
Ranch Rings are another popular appetizer at Firebirds.
These buttermilk-battered onion rings are coated in panko bread crumbs and served with roasted garlic ranch dressing. No doubt about it they are tasty, but what makes them perfect is that they are prepared in a way so that the onion does not separate from the crunchy batter when you take a bite.
Not wanting to stuff myself with too many appetizers, I moved on to try a few entrees.
One of Firebirds' signature favorites is the cilantro-grilled chicken. Accompanied by smoked tomato jack cheese sauce and garlic mashed potatoes, the chicken is lean and flavorful. The meal feels light yet filling, and it's affordable, too, ringing in at around $9.
Another stellar entree is the filet mignon, which is center-cut and wrapped in applewood smoked bacon. My sample was served with a side of petite tender mushrooms marinated in port wine. The sweet mushrooms created a sumptuous pairing with the juicy steak.
All of Firebirds steaks are served with a choice of a loaded baked potato, seasoned steak fries or sweet potato waffle fries.
Other popular dinner entrees include sesame-crusted salmon, American Kobe meatloaf, pecan-crusted trout, fish tacos and baby back ribs. In addition, Firebirds offers several burgers and a variety of salads.
Patrons can add wood-grilled chicken, shrimp, salmon, steak or seared tuna to any of the salads.
I sampled Firebirds' mixed green salad, which includes tomatoes, delicious sugar roasted pecans and cilantro-lime vinaigrette. Next I tried the Caesar salad, which is served with chile-dusted croutons and shaved Parmesan cheese.
The crab cake salad, grilled tenderloin salad and grilled shrimp and strawberry salad are also notable favorites.
But enough about salads, let's talk about a very serious matter ... dessert!
I fell in love with Firebirds' carrot cake. Served warm with a cream cheese frosting drizzled in salted caramel sauce, this dessert is to die for.
The cr ®me brulee cheesecake is also quite heavenly with a crisp, sugary cr ®me brulee top, a soft, melt-in-your-mouth creamy filling and a smattering of fresh blackberries and sliced strawberries. The dessert menu includes key lime pie and chocolate cake.
Firebirds also offers a tremendous selection of wines as well as some specialty cocktails like the double black diamond martini infused with fresh pineapple.
Based in Charlotte, N.C., Firebirds Wood Fired Grills number 29, spread throughout the United States. The Niles location, next to Dillard's in the Eastwood Mall, celebrated its one-year anniversary in December.
General Manager Kathy Severn said top-notch service, warm ambiance and high-quality meals define Firebirds Wood Fired Grill.
Let's not forget one more defining word: Superb.
Firebirds offers a truly superb dining experience. I look forward to my next visit.