Canfield's inside game pays off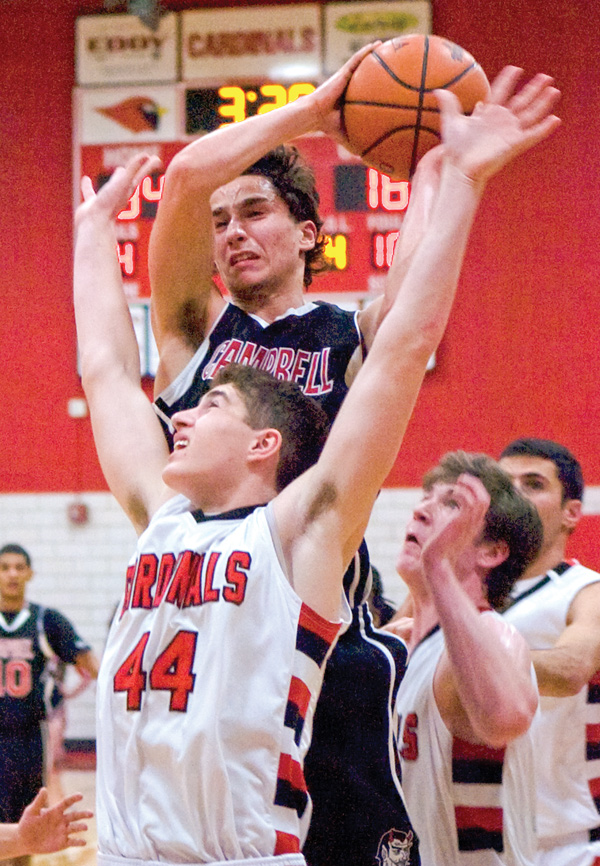 ---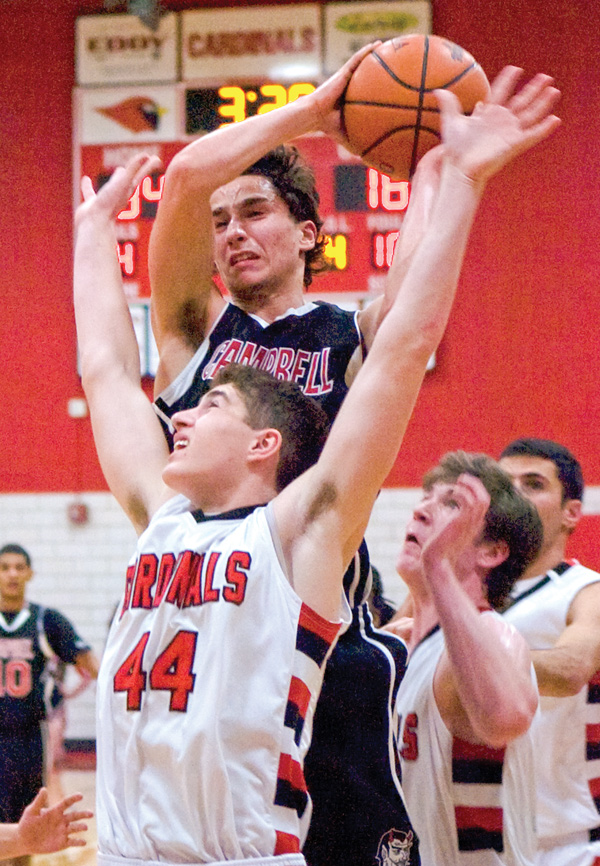 Photo
Campbell Memorial guard George Billiris grabs a rebound over the head of Canfield forward Mason Mangapora during the third quarter of their game Tuesday at Canfield High School. The Cardinals downed the Red Devils, 77-59. Canfield outre bounded Campbell, 41-26, and was more successful at free throws — 26 overall on 36 attempts.
Vrabel, Cardinals get to basket, foul line
early and often against Red Devils
By JOE CATULLO
sports @vindy.com
CANFIELD
While the clock ran during Tuesday night's contest, Campbell Memorial and Canfield matched pound for pound even with the Cardinals' height advantage.
It was when the clock stopped that made the difference in Canfield's 77-59 victory. The Cardinals (11-2) led, 43-26, at halftime, which is a 17-point difference. Canfield made 17 free throws while the Red Devils (8-4) failed to make one on five attempts. Campbell fouled 14 times while the Cardinals tallied four.
"One of our goals is to make more free throws than they shoot," said Canfield's Jarret Vrabel. "We definitely got that tonight. We're definitely trying to get to the line and get those points with the clock stopped."
The Cardinals made 26 free throws overall on 36 attempts. The Red Devils made seven on 14 attempts, which is 19 less than Canfield, and lost by 18 points.
"I kind of understood just from coaching and watching the game a lot that when you settle for outside jumpers, you're not going to pick up too many fouls," Canfield coach Todd Muckleroy said. "If you're getting inside and taking it to the hoop, more often than not you're going to get fouled at some point."
The Red Devils' woes came early and often, collecting eight fouls in the first quarter. Canfield capitalized with a 26-10 lead. The Cardinals were in double bonus early in the second quarter.
"Early on, in the first half, we were on the boards pretty hard," Muckleroy said. "I thought we rebounded the ball well, which was another key. Second-chance opportunities help as well."
Vrabel paced Canfield in the first half with 15 points. He finished with a game-high 22 points and made eight free throws on 11 attempts.
"He's been pretty level in the double-figure range," Muckleroy said. "Twenty-two might be his high for this year, but he just makes good decisions with the basketball and doesn't make bad shots."
Vrabel also capitalized with his size advantage with a game-high 14 rebounds. Overall, Canfield outrebounded the Red Devils, 41-26.
"He gets after it, and if you're not in position, he's going to make you pay," Campbell coach Mike Szenborn said. "I felt a lot of times we were out of position. He was able to get into position and get easy buckets, especially on rebounds and put-backs."
Cole Pryjma and Brady Clark finished behind Vrabel with 12 points apiece. Mike Yourstowsky chipped in eight while Mason Mangapora scored seven.
"It's always been one of my strengths that I took advantage of tonight," Vrabel said. "We had the definite height advantage, so we just capitalized on that."
For the Red Devils, Daron Clinkscale led with 16 points and eight rebounds before fouling out in the fourth quarter. Stephan Elash scored 13 points off the bench while D.J. Harrison had 10.
"You just have to be physical, and we weren't physical enough," Szenborn said. "The bottom line is you have to be physical and put a body on somebody. We weren't able to do that in the first quarter and paid the price."