Ban the Big Bellies 5 project aims to reduce dog, cat reproduction
---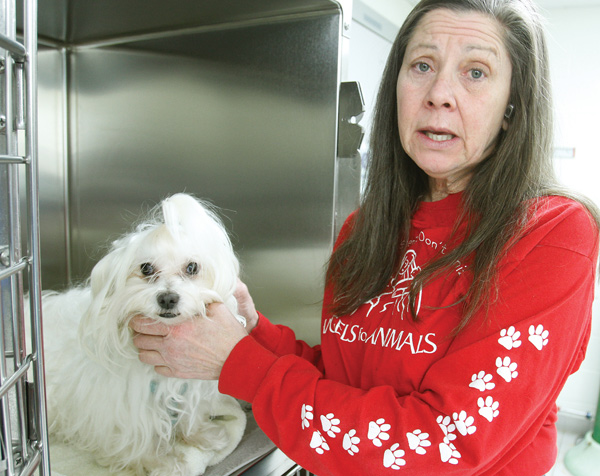 Photo
Diane Less, a co-founder of Angels for Animals in Beaver Township, comforts a Maltese mix after the dog underwent a spaying procedure. Angels for Animals is promoting Ban the Big Bellies 5, a World Spay Day event that offers low-cost procedures for pet owners who meet guidelines and others with financial need.
By LINDA M. LINONIS
BEAVER TOWNSHIP
For Diane Less, co-founder of Angels for Animals, the new mantra is "no birth."
"It's ahead of the 'no-kill' concept ... a step ahead to prevent births before they can happen," she said of the continuing effort to reduce the dog and cat population.
Less and John Simpson, general manager, are promoting Angels for Animals' participation in World Spay Day 2014, a program of the Humane Society of the United States. Angels' project is Ban the Big Bellies 5, which signifies the fifth year of participation.
So far, 75 appointments for spay and neuter procedures for cat and dogs have been made by owners who qualify by certain guidelines that include unemployment, being on disability and being a military veteran in addition to financial need. Last year, 92 male dogs and 137 male cats were neutered and 119 female dogs and 173 female cats were spayed.
Vouchers for the procedures will be available until the funding of the goal of $50,000 is depleted. The Kenneth A. Scott Charitable Trust of Key Bank is sponsoring the program for the third year and provided $20,000. Other funds come from individuals and donations.
Angels' records show that 8,500 cats and dogs were spayed and neutered at its facility in 2013. That number reflects animals in the shelter program and appointments made by individuals for the procedures.
The Ban the Big Bellies 5 is unique because it offers the procedures, which prevents the animals from producing offspring, at such a low cost. It is $10 for cats and $25 for dogs. Less said fees at veterinary offices are considerably higher.
Angels for Animals also offers Show Us the Mommy! spay program in which the mother cat is spayed for $25 and kittens for $5 each. Funding is by the Karen A. Erwin Memorial Trust. Another program is 1-2-3 for $45, which provides for up to three cats to be spayed or neutered. For either, contact Angels.
Less said the "no birth" push addresses the startling number of offspring that one unspayed female and her mate can produce. She said cats can reproduce up to four times a year. Female kittens in the first litter can have kittens of their own by the next winter.
Angels for Animals calculates that an unchecked breeding feline pair, producing two litters a year with three surviving kittens, can have offspring numbering some 80,399,780 in 10 years.
Less said in 2008, Angels had 6,500 felines come in to the shelter. In 2013, it was 3,000 cats with about 1,300 being adopted. Simpson said about 10 to 30 dogs and cats, but mostly cats, are brought to Angels' drop-off site daily.
Angels' veterinary service spays and neuters about 60 cats and 20 dogs per day. The animals are from Angels' shelter and the public. Dr. Alison Achey is the lead veterinarian.
Less said there are health benefits of spaying and neutering. "Animals won't get testicular or ovarian cancer," she said, adding they'll live longer and have fewer behavior issues.
Simpson said irresponsibility is the main reason pet owners don't spay and neuter their companion animals. "Some people don't understand what it is," he said.
Angels for Animals reports that some 4 million homeless cats and dogs are euthanized annually in U.S. shelters. That number would decrease if the number of litters being born were curtailed. Simpson said among excuses by owners are "the shelter will take care of them, spaying and neutering hurts them and can't afford it."
But, shelters can't find homes for every surrendered cat or dog. Angels for Animals notes that 10,000 people are born daily in the United States while 70,000 puppies and kittens are born daily. If that birth rate for animals continues, there will never be enough homes for all the dogs and cats.
The Ban the Big Bellies 5 offers the low-cost procedures that help people be responsible pet owners, provide health benefits for their pets and prevent more unwanted animals from being born, Simpson said.