Youngstown native recalls meetings with Dr. King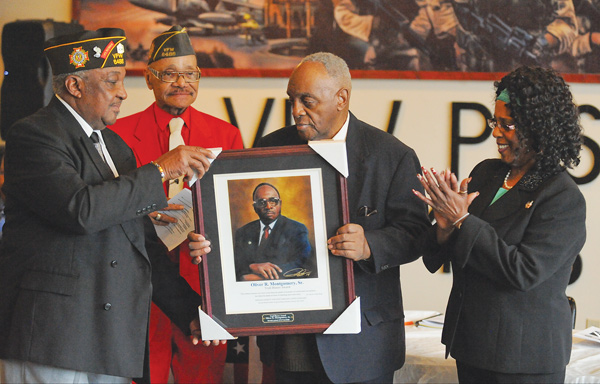 ---

Photo
Oliver R. Montgomery Sr., third from left, receives the Trailblazer Award from Ulysses Rucker, left, post commander of the Donald Lockett VFW Post 6488 in Coitsville Township; and Sandra Smith-Graves. The award is given annually by the post and its auxiliary.
By Bob Jackson
YOUNGSTOWN
For Oliver R. Montgomery Sr., meeting Dr. Martin Luther King Jr. was like a dream come true.
"He was an awesome man, an awesome personality," said Montgomery. "For a civil-rights activist, meeting Dr. King was like meeting the Pope. It was huge."
Montgomery, 84, was honored Monday at the Donald Lockett VFW Post 6488 in Coitsville Township, where he received the Trailblazer Award, given each year by the post and its ladies' auxiliary.
"It's a great honor," said Montgomery, who was born and raised in Youngstown and now lives in Pittsburgh. He said the award is especially satisfying because of his military background and his service to the labor movement, as well as his work toward equality in civil rights.
Montgomery said he met Dr. King several times and recalled their first meeting in New York City.
"We were the same age, so when we met, I told him that we were born in the same year," Montgomery said. "He asked me what month I was born, and I told him May. He looked at me and said, 'Well Brother Montgomery, you are just a baby because I was born in January.'"
Montgomery said he helped organize efforts for local residents to travel to Washington, D.C., in 1964, for a rally at which Dr. King gave his famous "I Have A Dream" speech.
"Dr. King was supposed to later come to speak here, but the powers that be didn't want Dr. King in Youngstown," Montgomery recalled. "They were afraid he would stir the people up."
Montgomery is a retired international director of the Steelworkers Organization of Active Retirees. He joined the United Steelworkers of America Local 2136 in 1948 while working at Youngstown Sheet & Tube, where he started as a teenager and worked his way through college.
In 1950, he transferred to USWA Local 1942 at Sheet & Tube's Brier Hill Plant, where he became an industrial bricklayer. A labor activist who dedicated much of his life to civil-rights issues, Montgomery is listed in Who's Who In Black America.
Some of his activities on behalf of civil rights and liberties included organizing various marches, demonstrations and boycotts. He also was active in the Nelson Mandela Free South Africa Movement, and chaired the Labor and Industry Committee of the Youngstown Branch of the NAACP during the civil-rights movement of the 1960s.
He retired from the Army in 1989, after a 41-year career of active and reserve service.
A 1947 graduate of South High School and a 1956 graduate of Youngstown State University, Montgomery said Youngstown was at the forefront of the civil-rights movement.
"We broke down racial barriers in the steel mills," he said. "That's where we got our start. We were there at the beginning of the movement."
He also said that the labor movement "spearheaded" the drive to recognize Dr. King's birthday as a national holiday by pushing to have it negotiated into labor contracts.
"We were the first to fight for it," he said.
Montgomery served as president of the Youngstown Chapter Negro American Labor Council, where he became national vice president and national secretary. As president of the local chapter, he led the fight to integrate the Youngstown District 26 USWA staff.
Montgomery was presented his Trailblazer award by Arlette Gatewood, retired staff representative of the United Steelworkers of America, who said he "worked with and was raised with [Montgomery] in the labor movement."
"His was a stern, but calm voice," Gatewood said of Montgomery. "Oliver was the man who would listen to everybody, and then come up with a solution that everyone could live with."
He said Montgomery is highly regarded and respected by Steelworkers all across the country.