Eighth annual Citywide Baby Shower coincides with MLK day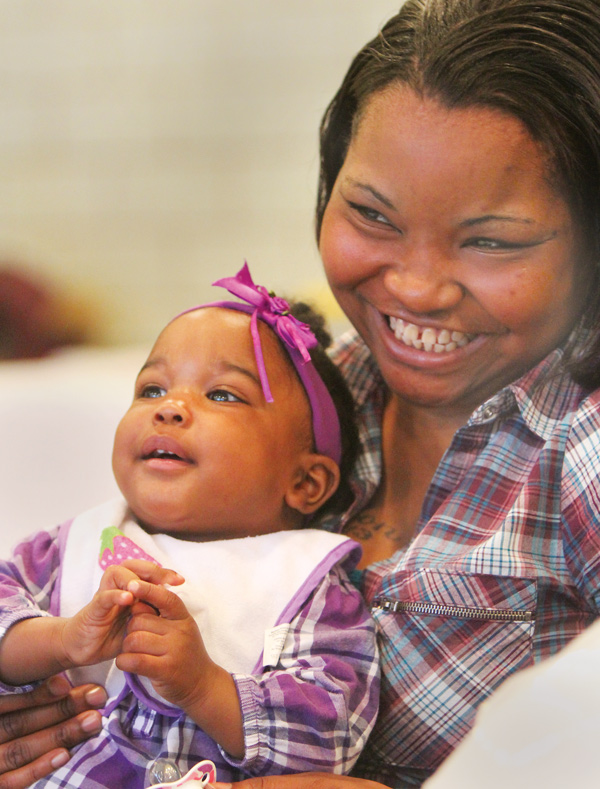 ---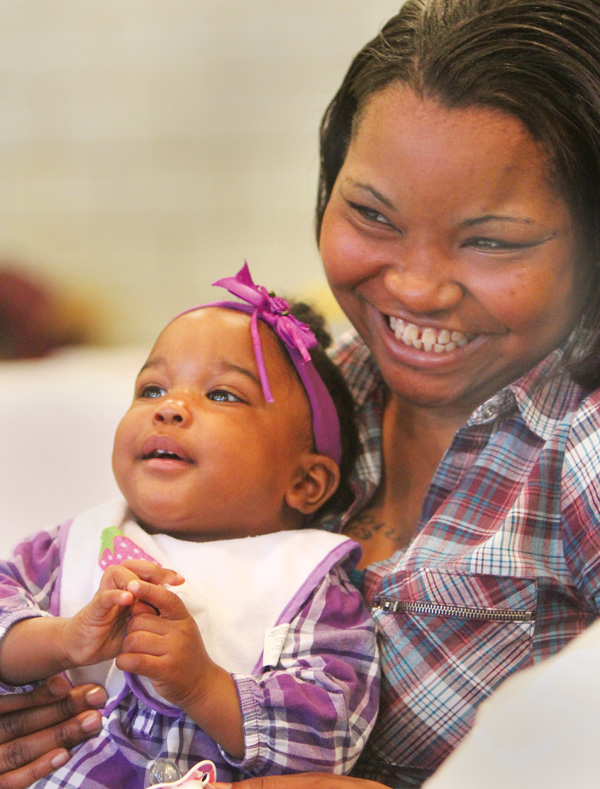 Photo
One-month-old Lamar Brooks Reynolds, top photo, catches a nap on the shoulder of his mother, LaQuanda Brooks of Youngstown, while above, Lillian Macklin and her daughter, London Macklin, 8 months, enjoy the festivities. Moms, babies and some dads attended Monday's eighth annual Citywide Baby Shower at Associated Neighborhood Centers, McGuffey Centre.
Eighth annual event provides information to new parents
By Denise Dick
YOUNGSTOWN
Babies, mothers, mothers-to-be and a few fathers attended the eighth annual Citywide Baby Shower on Monday at McGuffey Centre's Associated Neighborhood Centers to learn about services available to them.
Participants learned about car-seat safety, sickle cell anemia and fracking and gathered literature and other information from vendors ranging from Akron Children's Hospital, Humility of Mary Health Partners' Resource Mothers, Help Me Grow and Dr. Rodney Hill to MYCAP, Catholic Charities, H&R Block, Youngstown Health Department Minority Health and Frack Free Mahoning.
Doris Jean Carter, senior coordinator for the center, said the program coincides with Martin Luther King Jr. Day because it's "a day of giving back and giving to the community."
A Dr. King quote from the program reads, "Of all the forms of inequality, injustice in health care
is the most shocking and inhumane."
The program and vendors are geared at wellness of the mother and children.
Last year Lillian Macklin attended the Citywide Baby Shower, pregnant with her first child and just a few months after surviving a serious car accident.
Macklin underwent surgery on both arms and her pelvis.
"When I came out of surgery, they told me I was pregnant," she said.
That was in October 2012. She, her baby, 8-month-old London; and the baby's father, who is now her husband; all survived the crash, and all are healthy.
"This is my miracle baby," she said.
As an expectant mother last year, Macklin found the shower beneficial, so she came Monday as a new mom.
Blue and pink balloons decorated the tables, and blankets and baby clothes were among items to be won in the drawings. There were even shower games such as guessing how many beans were in a bottle and a scavenger hunt. One thing absent from a typical shower though: crying babies. The infants and toddlers in attendance either napped through the festivities or cuddled in their moms' arms taking it all in.
Megan Bradley brought her tiny daughter, Alexandra Cambert, 6 weeks, her first child.
"I work with Resource Mothers, and they told me about it," Bradley said. "They've been super helpful."
Danilah Colvin, 5 months, got all dressed up for Monday's party with her mom, Rhonda Johnson.
Johnson also learned learned about the shower from Resource Mothers and decided to attend and learn about services available.
Danilah, Johnson's first child, just sat quietly with mom.
"She's a good baby," Johnson said.