Slumping Ohio State falls again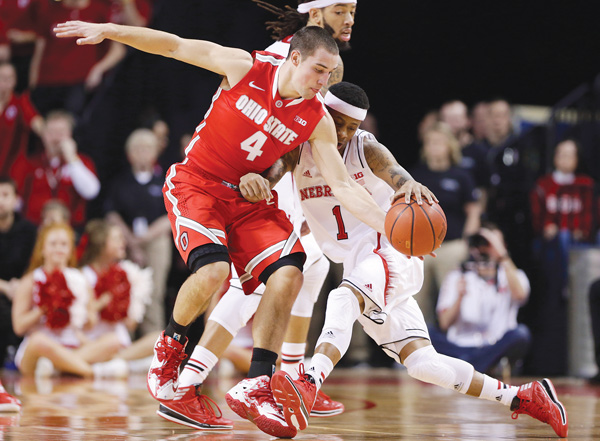 ---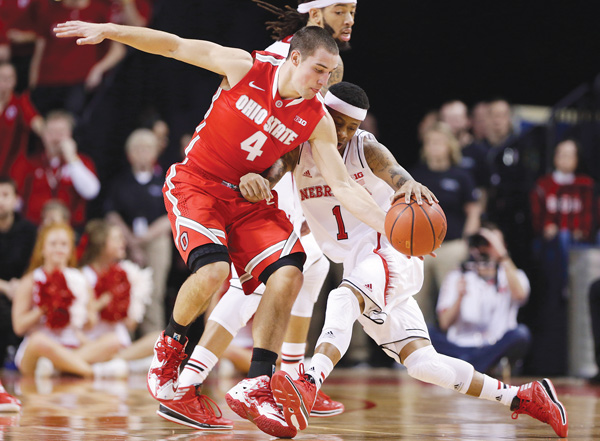 Photo
Ohio State guard Aaron Craft (4) steals the ball from Nebraska's Deverell Biggs (1) in the first half of a game in Lincoln, Neb., on Monday.
Associated Press
OMAHA, Neb.
After Nebraska's previous home game, Terran Petteway stood in front of his bench, hands over his head with a pained look on his face.
He wore an expression of pure joy Monday night as the buzzer sounded and the student section rushed the court to celebrate the Cornhuskers' 68-62 upset of No. 17 Ohio State. It was the Buckeyes' fourth straight loss after a 15-0 start.
Petteway scored seven points in the final 2:22 and had 13 of his 18 in the second half to help the Huskers end a five-game losing streak and give coach Tim Miles his biggest win in two seasons in Lincoln.
The Buckeyes (15-4, 2-4) beat Nebraska by 31 points on Jan. 4 in Columbus and haven't won since.
The four-game losing streak is their longest since 2007-08.
"It's like there's this black cloud over us," said point guard Aaron Craft, who committed four turnovers and has 19 in the last four games. "We have to find a way to get it off."
The Huskers survived after squandering a 14-point first-half lead and won against a ranked opponent for the first time in 16 games. They used a 16-5 run late in the second half to regain control and made 13 of their last 16 free throws to hold off the Buckeyes.
Craft scored 12 points, LaQuinton Ross added 11 and Lenzelle Smith Jr. had 10 for the Buckeyes.
"When something doesn't go well, we're not able to answer the call," Ohio State coach Thad Matta said. "We don't have the mental toughness to make the next play. We're clinging on the mistakes. We've got to play forward."
Nebraska overcame 17 turnovers — eight by Petteway — and a couple of lulls to beat a Top 25 opponent for the first time January 2012.