Fitch's Powell nears 250th dual meet victory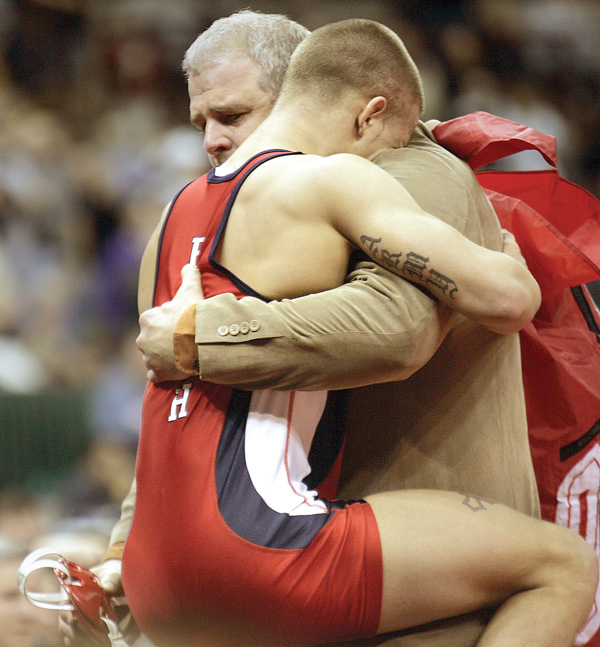 ---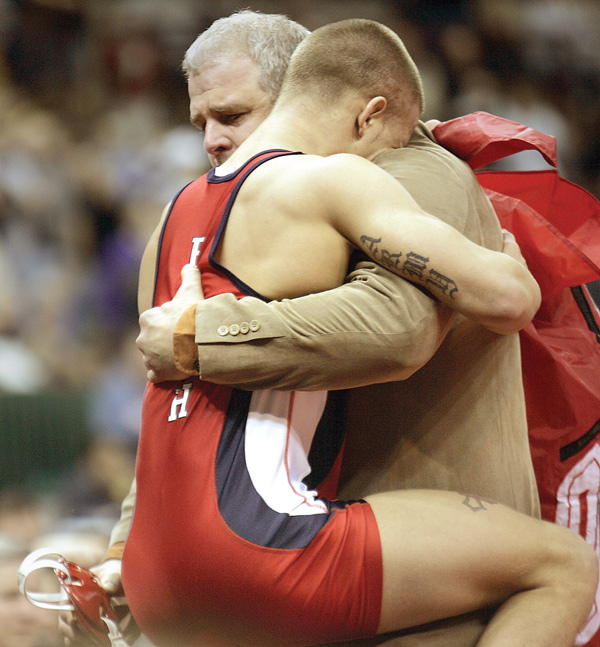 Photo
Tony Jameson, of Austintown Fitch, hugs his coach, Brett Powell, after winning the Division I 145-pound championship during the 71st annual state wrestling tournament at OSU's Schottenstein Center in Columbus. Powell will go for his 250th dual meet victory on Wednesday.
By Greg Gulas
AUSTINTOWN
There's a simple reason why Fitch wrestling coach Brett Powell is on the cusp of the 250th dual meet victory of his 31-year coaching career.
He still loves it.
"It truly has been an unreal run for me," said Powell, whose team hosts Kenston as part of Wednesday's Ohio Duals. "After all these years I still love going to my job every day while looking forward to working with the kids. Dealing with the kids, parents, teachers and other coaches has really been a lot fun."
Powell is a 1978 graduate of West Branch High and 1982 graduate of YSU, where he earned three letters in football under late Penguin coachr Bill Narduzzi and two letters in wrestling, the sport that fueled his competitive juices.
"Football was always fun but there was that competitive drive with wrestling," he said. "As a coach I see that in my players and it is so much fun to watch them grow and ultimately mature over the course of their scholastic careers."
For the past four decades Powell has taught marketing education and business at Austintown Fitch, beginning his coaching career as an assistant wrestling coach at Ursuline. He has also served as an assistant football coach at Fitch and now has that same role at Western Reserve High.
His Falcon wrestlers, however, continue to be the topic of area wrestling conversations and have been for the past 28 seasons.
He's produced 49 state qualifiers and has had 19 wrestlers place while 14 of his athletes have recorded 100 or more wins for a career.
Two wrestlers, Steve Sletvold and Greg Faunda were senior All-Americans while Sletvold was a senior national champion and Tony Jameson a four-time state champion in four different weight classes and the only two-time MVP of the state finals.
"We have had some excellent wrestlers over the years while all team members have contributed to our overall success," he said. "They remain a very dedicated group that has consistently put team above individual accomplishments."
He was the 1998 Ohio Division I coach of the year and was inducted into the Ohio High School Wrestling Coaches Hall of Fame in 2008 and the Eastern Ohio Wrestling League Hall of Fame in 2012.
Chosen co-coach of the 1997 Ohio Senior National team, his teams have posted seven EOWL dual meet and tournament team titles, five state top-10 finishes and a district runner-up crown. In 2008 Fitch finished fourth in the state, best in school history.
"You don't last very long in this business without the support of those around you and I have been blessed to have plenty of that, both on the home front and at work," he said. "My wife Lisa and two sons, Tyler and Hunter have been that support at home and they'll never fully know how much I appreciate them."
He also praised athletic director Rob Conklin, as well as former Fitch ADs Gene Chepke, Dick Kenney and Joe Nohra and Western Reserve's Jeff Martig .
"All have been supportive in ways I could never have imagined when I first started my coaching career," he said.
If Powell achieves his milestone victory against Kenston, his team will meet the winner of the Boardman-Aurora contest in the nightcap. Weigh-ins for Wednesday's event begin at 5 p.m. with competition beginning at 6.
If the Bombers prevail, then the next shot at the coaching milestone will come on Feb. 5 when the Falcons host Berea Midpark and Nordonia high schools.
"It's kind of ironic that the team standing in the way is Kenston because they are a team I have never gone up against as a coach," he said. "I do know that they are a competitive group and come from an excellent wrestling conference so it will definitely be a challenge for our team."
Powell isn't sure how long he'll continue to coach.
"I never thought I would be having so much fun after all these years. When I am through, though, I will be able to say that I've had one great ride," he said. "I never thought I'd get to coach my two sons and that has been fun as well. When it isn't fun anymore then I'll quietly walk away. It's not that time just yet."