Workshop honors, applies Dr. King philosophies, teachings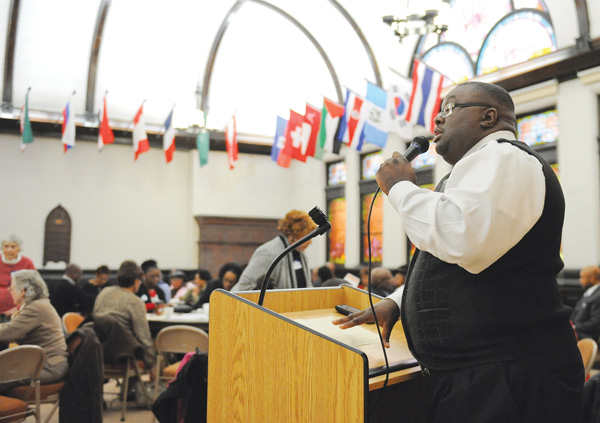 ---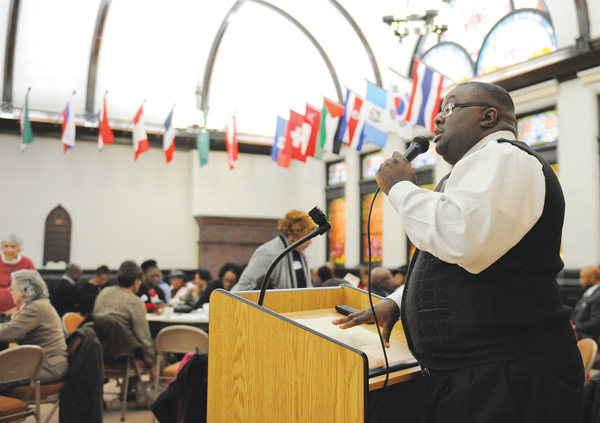 Photo
The Rev. Dr. Lewis W. Macklin II, pastor of Holy Trinity Missionary Baptist Church, moderates the 31st annual Community Workshop Celebrating the Life & Legacy of Dr. Martin Luther King Jr. at First Presbyterian Church, 201 Wick Ave. in Youngstown.
By Sean Barron
YOUNGSTOWN
If 19-year-old Shaniece Howell could sit down and have a one-on-one conversation with Dr. Martin Luther King Jr., she would first thank him for standing up to injustices and spearheading a movement that changed the nation.
In addition to unifying people of diverse races, socio-economic backgrounds and lives, the slain minister and civil-rights icon has had a profound effect on her life.
"I'd like to know how he stayed so peaceful and not let negative people impact him," said Howell, a Youngstown State University student who's studying to be a pharmacist.
She added that King's example also showed her the importance of not being a silent witness to bullying and other types of injustice.
Honoring and applying his philosophies, works and teachings also was the main topic of Monday's 31st annual Community Workshop Celebrating the Life & Legacy of Dr. Martin Luther King Jr. gathering at First Presbyterian Church, 201 Wick Ave.
Sponsoring the three-hour workshop was the Martin Luther King Planning Committee of the Mahoning Valley. The event was themed "The Struggle for Justice: Owning our Past, Claiming our Future."
An estimated 100 religious and community leaders, elected officials and others attended the gathering, which acknowledged the visions of local grass-roots organizations that continue to address issues of social justice, peace and community and individual empowerment, organizers said.
The Rev. Dr. Lewis W. Macklin II, pastor of Holy Trinity Missionary Baptist Church, was moderator.
A few years ago, Howell, who works in YSU's records office, learned a lot about King, the Rev. Fred L. Shuttlesworth and other key civil-rights activists.
In 2011, she was part of Sojourn to the Past, a 10-day, five-state history program that takes adults and high-school students through the South to retrace the steps of the modern civil-rights era of the 1950s and 1960s and meet people who played vital roles in the movement.
Workshop panelists were the Rev. Henry L. McNeil, president of the Community of Faith Credit Union; Dr. Dorothy Collins, dean at Eastern Gateway Community College; Patrick Kerrigan, executive director of ACTION's Home for Good and Oak Hill Collaborative programs; and the Rev. Robbin Del Nagro of the Mahoning Valley Association of Churches.
The Rev. Mr. McNeil explained that work is underway to establish the state-chartered COFCU, which will be a members-owned and controlled institution to assist low-income people, many of whom have little or no access to mainstream banks. Services will include small loans, homeownership training, debt elimination, credit counseling and second-chance accounts, he noted.
COFCU needs to raise $150,000 to qualify for and receive $1.5 million in nonmember deposits, Mr. McNeil said, adding that people can go to www.give2cofcu.org to make a contribution.
EGCC offers business-management technology and myriad other programs to encourage people to continue with their education beyond high school. In addition, numerous opportunities are available for those 60 and older, Collins noted.
"Education is there for everyone," she said, noting that the two-year college's main goal is to prepare students for YSU and other four-year schools.
In addition, Eastern Gateway offers six transferrable associate degrees, tutoring and student-services programs, grants, loans and scholarships, Collins continued.
The Alliance for Congregational Transformation Influencing Our Neighborhoods organization's Home for Good program tries to help people transition from prison to society, said Kerrigan, a former Youngstown Municipal Court judge.
An estimated 2.2 million people in the U.S., a disproportionate number of whom are minorities, are incarcerated and an additional 5 million are under community supervision, he noted.
"Mass incarceration is the latest form of racism," and makes it harder for ex-convicts to find good-paying jobs and contributes to the decline of many urban neighborhoods, he explained.
Instead of spending more than $60 billion each year on prisons, the U.S. should invest more money and effort in job training, drug counseling and other alternatives to incarceration, Kerrigan continued.
The Rev. Ms. Del Nagro cited the Good Samaritan parable in King's famous "I've Been to the Mountaintop" speech to illustrate the continuing need to tackle economic and educational disparities while helping those less fortunate.
That portion of King's speech, which he delivered April 3, 1968, in Memphis, Tenn., talks about a man on a road between Jerusalem and Jericho who was robbed. Instead of asking what might happen to him if he helps the man, the Good Samaritan asks what could happen to the man if he doesn't help.
Ms. Del Nagro added that it's essential that people who are homeless or in transitional housing have basic essentials, along with computer skills and other means to secure employment.
The workshop also included roundtable discussions that focused on empowering people regarding issues such as further coordinating services for senior citizens and veterans, providing greater hope and more entrepreneurial opportunities to young people, repatriating convicted felons, continuing with neighborhood-beautification efforts, promoting successful youngsters, registering to vote, holding elected officials accountable for their decisions and valuing education more.
"There aren't any statistics of young people who have died from learning," said the Rev. Gwendolyn Johnson, pastor of Reed's Chapel AME Church on the East Side. "If you have the education, you can be the agents of change."
"The struggle for justice is not over, but we can be part of the solution," added the Rev. Kenneth L. Simon, pastor of New Bethel Baptist Church.