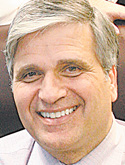 ---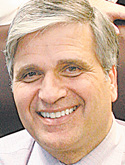 Photo
Mayor: Loss will not cause budget problems
By Jeanne Starmack
Girard
The city will see a $940,000 drop in income-tax revenues from 2013 to 2014, but that doesn't mean hard times for the city, officials said.
City Auditor Sam Zirafi told the council at its meeting last week that construction at the Vallourec Star expansion is over, so the city will not see the wage-tax revenue from those workers.
The city was expecting the loss, and it will not cause problems with the budget, Mayor Jim Melfi said.
The city and Youngstown have been sharing income taxes from construction work at Vallourec, formerly V&M Star, since the expansion began in 2010.
Before construction began, there was contentious debate about how to share the wage-tax revenue and also the corporate-profit taxes.
The cities agreed to share the income tax, with Girard getting 55 percent of up to $3 million in revenue, at Youngstown's higher tax rate of 2.75 percent, according to Vindicator files. Girard's income tax rate is 2 percent.
After the $3 million threshold, the cities split the income tax evenly, according to the paper's files.
Melfi said Thursday that from the start of construction, which was June 2010, the city realized $2 million in income tax.
From that money, the city paid debt and invested in new equipment such as vehicles for the road department and also for police and fire departments, he said.
The city has a general-fund balance of $1 million going into this year, he said.
"The lion's share of that million is V&M," he said.
By comparison, past financial woes included 2001's $2.55 million deficit and the loss of Indalex Inc., the city's biggest employer, in 2007.
With Indalex, which made extruded aluminum products, went $300,000 a year in wage taxes, Melfi said.
The wage tax from Vallourec, he said, will be in the neighborhood of $300,000 a year and would replace what the city lost after Indalex closed.
Girard also will continue to share in the corporate-profit tax.
"We all knew this large influx of money would end, and we will live within our budget and not spend foolishly," Melfi said.