Frieda's— A beacon for Jazz
By GUY D'ASTOLFO
YOUNGSTOWN
Frieda's Jazz and Blues Club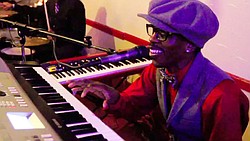 Video
Frieda's, a popular Youngstown night spot is home to some serious jazz and blues.
Frieda's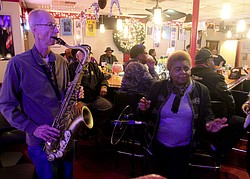 Gallery
Frieda's is a Youngstown nightspot featuring live jazz and blues music.
IT'S A FRIDAY EVENING IN FRIEDA'S LOUNGE, and a jazz combo is in full swing on the tiny stage. A gathering of music-lovers crowds the cozy room, reveling in the spirited music and atmosphere.
It's a scene that has been repeated countless times over the past three decades.
And overseeing it all is Afreda "Frieda" Anderson Martin.
At age 79, she has owned the iconic jazz club that bears her name since 1979.
The best jazz musicians this region has produced have played Frieda's over the years. Plenty of greats are on that list, including Sean Jones, Barbara Morrison, Shedrick Hobbs, Harold "Stage" Hardrick, Teddy Pantelas, Howard Howell and Billy Beck.
For a jazz mecca, it's an unassuming place: small, neat, sturdy and proper. But the room in a triangular two-story brick building brims with history and character.
Frieda's is located in a century-old structure at the corner of Belmont and Rayen avenues, near downtown.
The lounge is intimate — capacity is 65, with 24 barstools and a handful of tables. When it's crowded, it's easier to walk out the front door and re-enter through the back door just to get to the bathroom. But the size and shape make for excellent acoustics.
Vintage concert posters adorn the walls: Ella Fitzgerald, Miles Davis, Billie Holliday, Sam Cooke and James Brown.
Frieda sat at the bar on a recent weekday afternoon to talk about the place that has been her life for the past 34 years. She didn't have to go far — she and her husband, David Martin, live in the apartment upstairs.
The main thing about her club, according to Frieda, is the atmosphere.
"It's like family in here," she said. "If a new person walks in, everyone wants to know who it is."
Her patrons are generally a little older, and many are musicians themselves. There is never a cover charge and never any trouble.
For a newcomer, it's easy to see why this spot has meant so much to so many.
"Frieda's is a hidden jewel," said Howard Howell, who has performed at the club nearly his whole life. He is the keyboardist and front- man for Howard and the Point Five Band, which plays Frieda's nearly every weekend.
"It has the same flavor it had years ago," he said. "People are much different here. They come for one reason — to enjoy themselves. It's a therapy spot.
"It's small and it gets hot, but people don't mind being tight together. Sometimes we have to open both doors, but everybody wants to be in Frieda's. It's real authentic. The vibe in here you can't get nowhere else. I play in a lot of places, and I'm not just saying that."
As for Frieda herself, Howell said "She's one of the few who have kept live entertainment going steady, and I've been blessed to be there for her when she needs me."
Howell began coming to Frieda's at age 9 with his stepfather, the late Winston Walls, who was a noted jazz artist.
"I used to stand there at the front landing and watch them go to work, working themselves up into a sweat," he recalled. "That's where I learned to play the way I play, relentlessly. Miss Frieda is like a stepmom to me, and her place has been my life. I got a lot of schooling there, how to perform, and how to deal with the public."
Teddy Pantelas is another local jazz stalwart whose life has been intertwined with the club.
"Frieda's is definitely a historic place for jazz and blues in Youngstown, and I've always loved being a part of the family environment they have," he said.
"I would go there in my 20s, when Winston Walls was playing organ, and there was a jazz guitarist named Eddie Mingo, and I would sit in with them. I loved the vibe."
Pantelas would later play in a trio that included Clifford Barnes and Shedrick Hobbs, and Sean Jones would occasionally stop in and make it a quartet.
The club, he said, has always been about giving, and has nurtured many a player.
"Over the years, I've watched Clifford [Barnes] grow from a teenager playing the organ to becoming a monster keyboardist, right before my eyes at Frieda's," said Pantelas. "And that's just one example that I can give."
The story of how the lounge became a jazz club reflects the improvisational nature of the music itself.
Frieda had been working as a barmaid for years, and was good at it. If she quit at one lounge, her regulars would follow her to her new place.
When the old Triangle Bar — as it was then known — went up for sale in 1979, she bought it and went into business for herself.
At first, Frieda's wasn't a jazz bar.
"One night in the early '80s, [local jazz musician Willie] 'Boogie D' [Mitchell] came in," she said. "It was snowing hard that day, and the snow was piling up, but he said, 'Frieda, we need a place to play tonight.' I was leery, but I let him. When I looked up later that night, the place was packed even though it was snowing hard. I've been having live jazz ever since."
Frieda has always loved jazz and the blues. "It's part of our heritage," she said. "I always stick with it, even when times get rough."
She and her husband are getting older and they've slowed down a little. The lounge is only open on weekends (jam sessions start at 5:30 p.m.) for the winter, but will be open five nights once the weather breaks.
Although she has no immediate plans to retire, Frieda said if the right offer comes along, she'll take it.
The personable owner can readily recall the people and bands that have come through her door over the years, including the late, great "Stage" Hardrick.
A framed and enlarged photo of the musician occupies a place of honor on the wall behind the stage.
"He was our house band for 20 years," said Frieda.
Regular performers these days include Howard and the Point Five Band, Alfred Clarett and Rick Ward. But the door is always open for any jazz player who walks in. "We don't turn down any jazz musician," said Frieda.
A classic example of that came on Nov. 2, when Sean Jones — the Warren native who has reached the top levels of the jazz world — headlined a concert at the DeYor Centre.
After the show, the trumpet master headed straight to Frieda's, where he got right back on stage and played another set.