Triple event program at Austintown Rotary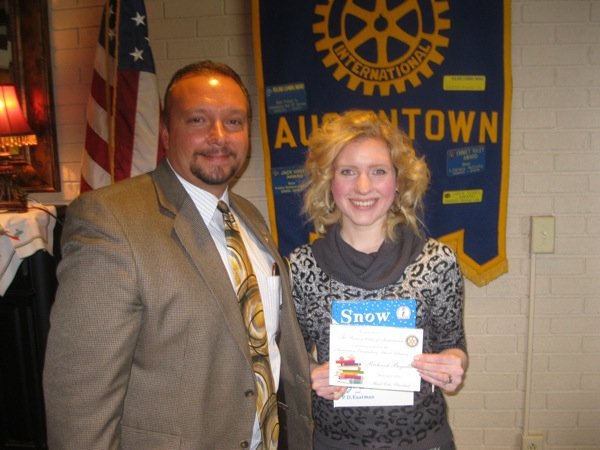 ---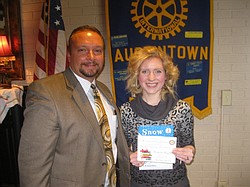 Photo
Neighbors | Submitted .Austintown Rotary President Mark Cole, (left), presents a library donation for Austintown Elementary library to speaker Amanda Lynch from Impact for Animals at Austintown Rotary Club's triple event program Jan. 6.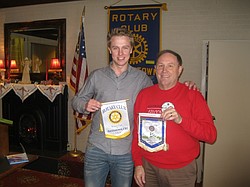 Photo
Neighbors | Submitted .Pictured, from left, Mike Shane exchanges club banners with mentor Gary Reel at Austintown Rotary Club's triple event program Jan. 6

Photo
Neighbors | Submitted .Pictured, from left, are Fitch robotics team members Eileen Yantes, Wes Pringle and Zack Venzio with Rotary President Mark Cole at Austintown Rotary Club's triple event program Jan 6.
The Rotary Club of Austintown was treated to a triple event program at the Jan. 6 meeting. The scheduled speaker shared the spotlight with a friend from the past and the Fitch Robotics Team.
Visiting from California and China, former Fitch Interact Club President Michael Shane, class of 2005, brought the Rotary banner from Anaheim, Calif., where he is the newest member. He and his wife April greeted members with memories of his years in Interact and the support and mentoring he received from the Rotary and member Gary Reel, one of the advisors of the Interact Club.
Shane cited creation of an elementary level evening basketball program as a great learning experience for himself, encouraged by the Rotary, Reel, and past school superintendent Stan Watson. The Shanes are epecting their first child soon and both are involved in the food business in China, but are now spending some time in the United States.
The Fitch Robotics Team, guests and speakers before the holidays, returned to receive a donation toward their competition expenses from the Rotary Club. President Mark Cole made the presentation, and members announcing the upcoming Lego Competition on Jan. 11 at Austintown Middle School, a major area event sponsored by the local team.
The speaker of the day was Amanda Lynch, promoting her new endeavor: Impact for Animals. A free publication, Impact for Animals is a new monthly full-color print pickup flyer for the tri-county area. The purpose of the paper is to assist the community's nonprofit shelters in finding homes for their animals. It is free of charge and will be available at vet offices, grooming facilities, pet stores, etc. In addition to promoting adoptable animals, it is a source for news relating to the rescues and will cover their fundraising events across the Valley.
Although the Internet is a prime source for finding adoptable animals, this publication brings a new spin to the animal rescue community and its goal is to increase the chances of adoption and find permanent homes for homeless pets. For more information, visit http://impactforanimalsmag.com.