The streak is over: YSU tops Green Bay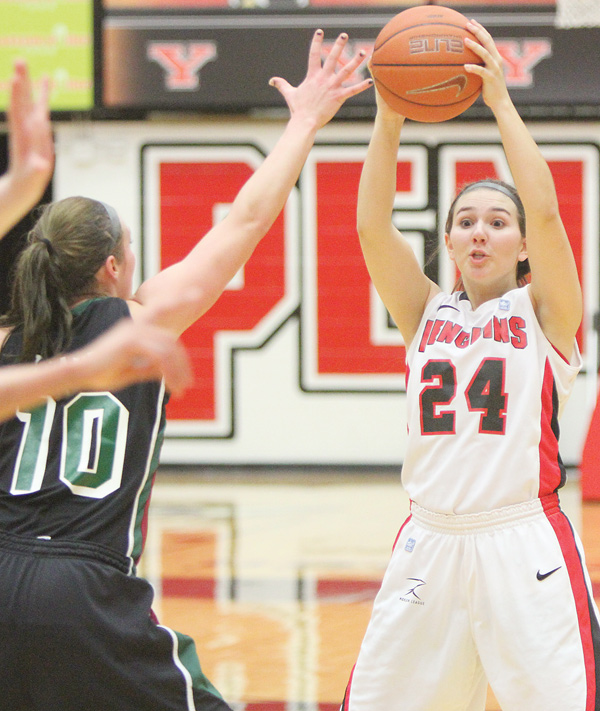 ---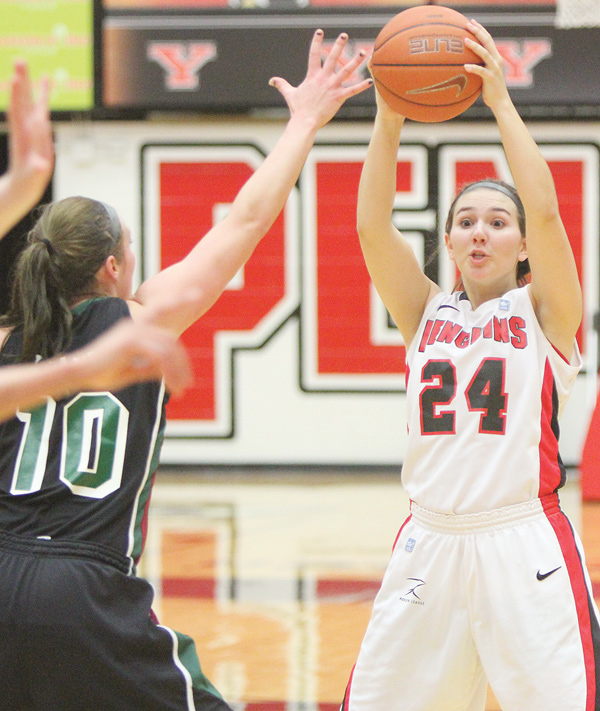 Photo
Youngstown State's Monica Touvelle looks to pass around Wisconsin-Green Bay defender Mehryn Kraker (10) during a game Thursday at YSU's Beeghly Center. Touvelle posted 15 points for the Penguins, who for the first time in school history downed the Phoenix at home, 66-57.
By Joe Scalzo
YOUNGSTOWN
They did it with their best two post players combining for nearly as many fouls (nine) as points (13).
They did it with the Horizon League's third-leading scorer, Heidi Schlegel, spending 28 minutes on the bench and finishing with a season-low seven points.
They did it with a freshman who had scored four points — combined — in the previous three games erupting for a career-best 20.
They did it with 24 turnovers (compared to just nine assists) and 20 fouls (including five by Schlegel) while getting out-rebounded (40-33) and out-shot (64-38) but not out-worked.
They did it against a team that had never lost at Beeghly Center in 14 previous tries, that had won 17 straight against Youngstown State's women's basketball team, that had dominated the Horizon League over the last 15 years in the same way that cold dominates January.
They did it ... well, it doesn't matter how they did it. Just as long as they did it.
Behind Jenna Hirsch's career night and a gritty defensive effort, the Penguins earned their first win over Green Bay since gas cost less than $2 a gallon, defeating the Phoenix 66-57 in a foul-plagued Horizon League game on Thursday at Beeghly Center.
"I wanted to cry after the game and I don't usually show a lot of emotion that way," said senior Liz Hornberger.
As for the postgame locker room, "It was crazy in there," Hirsch said. "We'll leave it at that."
The upset seeds were planted in the first half when Youngstown State held Green Bay scoreless for the final 11:01, turning a 14-11 deficit into a 25-18 halftime lead.
"We knew they'd come out pressuring us and we were a little frazzled at the beginning, but we kept our composure and played tough," Hirsch said.
The Penguins stretched the lead to 10 points with 15:05 left in the game, but the Phoenix whittled the deficit to three, 39-36, with 8:19 remaining.
But Latisha Walker scored four straight points, Hornberger made a 3-pointer and Karen Flagg split a pair of free throws that gave YSU a 47-36 lead with 6:18 left.
YSU led by at least five points the rest of the way, including a 15-point advantage with two minutes left.
"It was fun," said YSU coach John Barnes, who was an assistant at Green Bay last season. "It's a long, hard road to lose 17 straight to a team and come out and win."
Monica Touvelle added 15 points off the bench for YSU (7-9, 3-0), which defeated GB for the first time since February, 2005. The 6-foot-2 Walker played just 14 minutes while Schlegel (5-foot-11) scored 13 points below her average. But their absence opened up some driving lanes for YSU's small-ball lineup.
"It was tough with them out but we just played that much harder," Hirsch said. "We can play faster."
Megan Lukan led Green Bay (8-7, 1-2) with 19 points, 11 rebounds and five assists before fouling out with about three minutes left. The Phoenix finished with 31 fouls and 22 turnovers and shot just 9 of 40 from 3-point range.
When asked what the win means, Hornberger smiled and said, "I'm not sure what it means."
After a pause, she added, "It means we've got to beat Milwaukee now. We've got to win the next one."