McGuffey students come to tiny Nessa's aid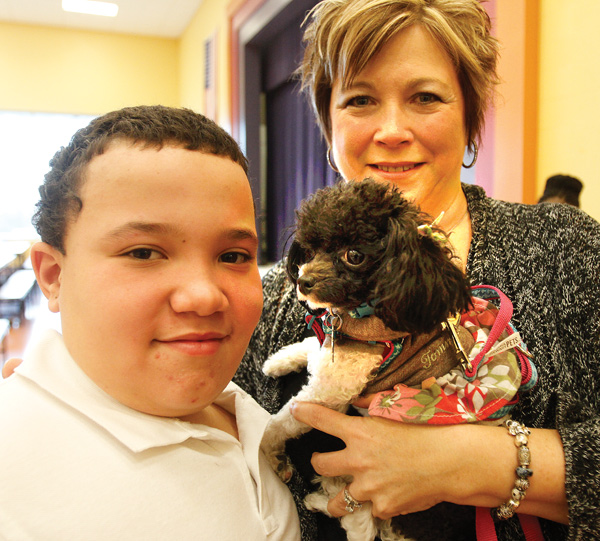 ---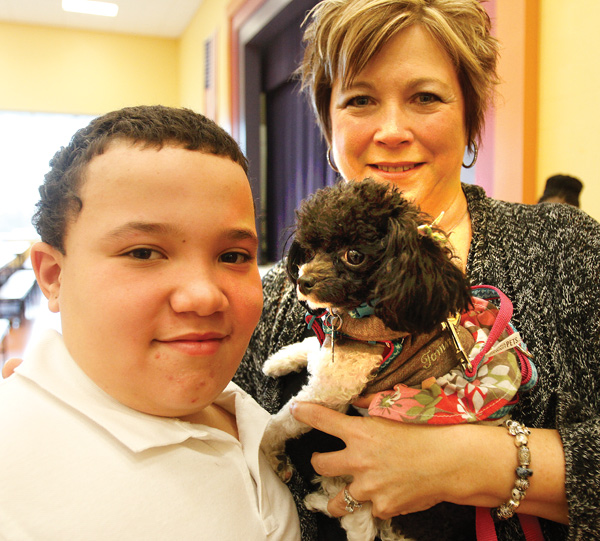 Photo
Rhyan Pegues, a fifth-grader at Youngstown's McGuffey Elementary School, and Paula Cipriano, a special-education teacher at the school who works with Legacy Dog Rescue, pose with Nessa, a dog Legacy found a new home for after Dr. John Owen, a Howland veterinarian, repaired her broken leg.
By Denise Dick
denise_dick@vindy.com
YOUNGSTOWN
Anyone who knows any teens or tweens probably has seen the colorful Rainbow Loom rubber-band bracelets that wrap their wrists, but a group of fifth-and sixth-graders at McGuffey Elementary School turned the trend into a fundraiser for a good cause.
Paula Cipriano, a special-education teacher at the school, is part of Legacy Dog Rescue and brought Nessa, a tiny poodle, to the school one day. The dog was in a cast from a November surgery performed by veterinarian Dr. John Owen of Howland Community Animal Hospital, who has a longstanding relationship with the rescue.
The poodle mix was surrendered to the rescue group by her owners, a Hermitage, Pa., family with seven medically fragile children, after she fell off a hospital bed and broke her front leg. Because of her size, the surgery was delicate and Dr. Owen had to insert a plate to allow the leg to heal.
"The kids saw Nessa and they wanted to help," Cipriano said.
Fifth-grader Rhyan Pegues, 11, suggested making and selling the Rainbow Loom bracelets.
"My cousin is from Chicago and she said everyone there is wearing them," he said.
The school's leadership team of 15 fifth- and sixth-graders decided to make and sell the trinkets.
"I didn't think it would work because everyone was already making them and wearing them," said Margo Kondela, school guidance counselor.
But the students prevailed, making the bracelets during recess and selling them before school. Some they make by looping the small bands around their fingers. More-complicated designs such as the starburst, so-called because of the star emblem created in the bracelet, require a loom.
Regular bracelets were $1 each. Necklaces cost $2, and the coveted starburst bracelet was $3.
"We sold at least 500," Kondela said.
The students raised $600 and presented a check to the rescue group Thursday.
Sixth-grader Justin Rogers, 11, took rubber bands home, made the bracelets and brought them back to school the next day.
"You can learn how to do it on YouTube," explained fifth-grader Lucas Rudloff, 11.
Nessa, with her new owner, Nanci Breegle of Niles, who works at the animal hospital, and Dr. Owen showed up for the occasion.
The dog, who weighs less than 4 pounds, frolicked from person to person at the school, with no sign of her old injury.
Fifth-grader Briaunna Moore, 10, gave Dr. Owen one of the bracelets "for doing the surgery," and the students peppered him with questions about his job.
Do you have to have a strong stomach? What kind of animal do you see most? Do you like your job?
"I love my job," Dr. Owen said. "I wouldn't trade it for any other job in the world."