Inmate execution called 'agonizing experiment'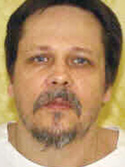 ---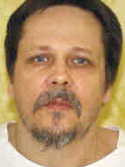 Photo
By Marc Kovac
COLUMBUS
State prison officials put to death a Preble County murderer Thursday in what public defenders are calling a "failed, agonizing exper- iment" and one longtime reporter described as the most disturbing execution he has witnessed.
Dennis McGuire, convicted in the 1989 rape and murder of a pregnant woman, was the first inmate to succumb to a previously untried two-drug lethal injection.
McGuire, 53, made loud snorting noises during one of the longest executions since Ohio resumed capital punishment in 1999. Nearly 25 minutes passed between the time the lethal drugs began flowing and McGuire was pronounced dead at 10:53 a.m.
State prison officials declined to comment on the execution Thursday afternoon, saying only that they were conducting their usual "after-action review" of the process.
The Ohio Department of Rehabilitation and Correction announced in October a new two-drug execution method involving a sedative and a painkiller, replacing the former single-drug method after the state could no longer purchase supplies of the latter.
McGuire was moved to the death house at the Southern Ohio Correctional Facility in Lucasville on Wednesday and spent the day and night talking on the phone, eating a special evening meal and preparing for his final moments.
He offered a short final statement, thanking his family and apologizing to the victim's family.
Alan Johnson, a reporter for The (Columbus) Dispatch who witnessed Thursday's execution on behalf of the Statehouse press corps, said the process began normally, with volunteers identifying suitable veins and inserting shunts to carry the lethal injection.
However, a few minutes after the drugs began to flow, McGuire "started this series of rattling, gasping, choking sort of sounds," with deep gulps for air that went on for about 10 minutes, Johnson said.
"This is the first one that I've witnessed where there was a struggle, a life struggle, going on," said Johnson, who has watched about 18 other inmates put to death since the state restarted executions.
He added, "I don't think he was conscious. ... He didn't have his eyes open ... but his body was reacting. Even if he wasn't thinking, he was gasping and struggling."
The federal public defenders office noted in a released statement that McGuire "tried to sit up, turned his head toward his family members who were witnessing and spoke to them. One witness described the entire scene as 'ghastly.'"
It added, "The people of the state of Ohio should be appalled at what was done here today in all of our names."
Earlier this week, in pressing for the execution to go ahead, Assistant Ohio Attorney General Thomas Madden had argued that while the U.S. Constitution bans cruel and unusual punishment, "you're not entitled to a pain-free execution."
U.S. District Judge Gregory Frost sided with the state.
After McGuire was put to death, Deborah Denno, a professor at Fordham University School of Law who has studied executions nationally, said accounts she has read indicate a "botched" execution.
"People are saying he was coughing and having reactions," she said. "That shouldn't be happening with a lethal injection. ... When the inmate does seemingly suffer or have a problem, then [the Department of Rehabilitation and Correction is] incompetent. They're not doing their job right."
The Associated Press contributed to this story.