Judge Dellick's son indicted on six felonies, nine counts overall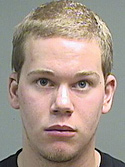 ---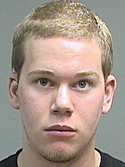 Photo
By Joe Gorman
Youngstown
The son of Mahoning County Juvenile Court Judge Theresa Dellick was indicted Thursday on six felony counts and nine counts overall by a grand jury.
John T. Dellick, 19, of Canfield, faces charges in two separate incidents, one for an October road-rage incident and another for a July episode with an ex-girlfriend.
For the July incident, Dellick faces charges of kidnapping and abduction, both felonies, and a misdemeanor count of assault.
For the October episode, Dellick faces two counts of felonious assault, a second-degree felony; two counts of ethnic intimidation, a fifth-degree felony; and two misdemeanor counts of aggravated menacing. He was charged with ramming another man's car in that incident, and Canfield Court Judge Scott Hunter recused himself from the case.
Prosecutors from the state attorney general's office and a visiting judge were appointed to hear the case, which was dismissed last week at the request of prosecutors so the case could be presented to a grand jury.
A spokeswoman for the state attorney general's office said Dellick was issued a summons and is scheduled to be arraigned Jan. 28.
He also was a suspect in road-rage cases in Austintown and Boardman in 2012 but was never charged.
Judge Dellick did not return messages seeking comment. Dellick's attorney, Sam Amendolara, also did not return a message seeking comment.
Dellick also has a pending aggravated-menacing charge in Youngstown Municipal Court.
On Oct. 18, Dellick was charged after his vehicle rammed a car at a red light at U.S. Route 224 and Lockwood Boulevard. The 58-year-old driver of the car, Angelo Gomez, said he saw Dellick throw a bottle out of his car and yelled at him for littering. Gomez said Dellick yelled racial slurs at him and his wife after the collision.
Shortly after that incident, Judge Dellick issued a statement saying her son was falsely accused and is innocent.
Two of the felonious-assault counts come from that incident, with the indictment saying that Dellick tried to harm Gomez and his wife, Anita, by striking their car, and so do the ethnic intimidation charges, which state Dellick caused the Gomezes to believe he would harm them because of their race.
The aggravated-menacing charges are from that same incident because they contend Dellick threatened the couple.
On July 25, Canfield police were called to the Hilltop Plaza after Dellick's ex-girlfriend, who was 17 at the time, said he agreed to meet her at the plaza, and when he arrived he picked her up and carried her into his jeep. A witness saw Dellick throw the girl into the car head first, police reports said.
That led to the kidnapping and abduction counts, with the grand jury saying that Dellick restrained her against her will and held her in the car until someone else arrived. Reports also said Dellick slammed her head against the center console and pulled her out of the car and also slammed her head onto the hood of the car, which led to the assault charge.
At the time, the girl's parents declined to press charges.
That girl also is who he is accused of threatening at Youngstown State University in November, which led to the charges in municipal court. He was jailed briefly for a time when he was arrested on that charge but was released on bond.
On Oct. 11, a week before the road-rage incident, YSU police were called to an argument that Judge Dellick and her son were having on campus. The judge told police her son was upset because he was kicked out of the house for smoking marijuana, and he threatened her. She told those officers she was not concerned for her safety, and John Dellick agreed to get an evaluation at St. Elizabeth Health Center, according to the reports.
She also told police her son suffers from severe depression and anxiety attacks, and she was in search of a safe place for him.