Phantoms' Connor USHL's forward of the week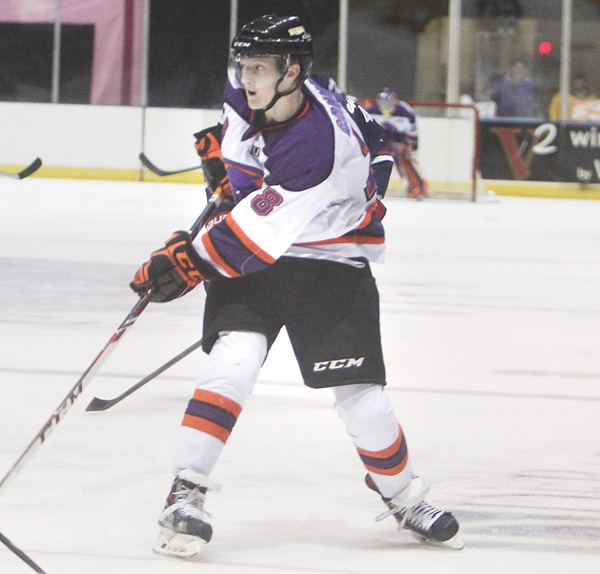 ---

Photo
The Phantoms' Kyle Connor takes a shot on goal during Saturday's game against Team USA at the Covelli Centre. Connor scored five points last weekend — a feat that earned him the USHL Forward of the Week Award.
Kyle Connor's big weekend earns
acclamation as USHL's forward of week
By Tom Williams
YOUNGSTOWN
Kyle Connor, the Youngstown Phantoms' leading scorer, was frustrated after he hit the goalpost late in last Friday's 4-3 loss to the Muskegon Lumberjacks. Earlier, two other of his shots rang off the crossbar behind goaltender Eric Schierhorn.
Twenty-four hours later, Connor channeled his disappointment from those close calls into a three-goal game in a 6-3 win over Team USA.
"In this game, I think you have to have a little bit of a short-term memory, just move on to the next play and kind of forget about it," the second-year forward said. "And take away the positives — I guess I created the chance."
Here's a positive — Connor's five-point weekend earned him the USHL Forward of the Week Award.
"Really honored" is how the 17-year-old said he felt when notified on Twitter that he had been selected. "It's a really good league so if you get something of that caliber you feel real humbled."
Linemate JJ Piccinich wasn't surprised.
SDLqWe're really happy for him," Piccinich said. "He more than deserves it."
Saturday's win snapped a 10-game losing streak and couldn't have come at a better time. Tonight, the Water Black Hawks (25-5-1, 51 points) will be at the Covelli Centre to play the Phantoms (8-18-5, 21 points).
"They, for sure, are one of the top teams in the league," said Connor, adding, "I think we can hang with anybody in this league. Everybody is going to be ready to play, to try and take down one of the top teams."
Phantoms head coach Anthony Noreen said the Black Hawks, who are in second place in the USHL Western Conference, are bringing a nine-game winning streak to Ohio.
"Waterloo is the best team in the league right now," Noreen said. "They are coming off an 8-3 [road] win over a good Sioux Falls team.
"I think it's a great test for our hockey team," Noreen said. "We feel like we're heading in the right direction."
Saturday, the Phantoms will have a rematch against the Muskegon Lumberjacks (15-16-4, 34 points).
"We've played them three times and all three have been one-goal games," Noreen said. "It's a rivalry — I don't think they like us and we don't like them very much."
It's been a busy week for the Phantoms off the ice. Defenseman Frederic Larsson, one of the team's four import players, was traded to the Tri-City Storm (12-19-2, 26 points) for a sixth-round draft pick. Eash USHL team is allowed up to four players from outside the United States.
Noreen said the move was necessary after the team traded for defenseman Bo Pellah last week. Pellah is Canadian and Larsson, who sat out last weekend's games, is from Sweden.
Maxim Letunov and Piccinich were named in the NHL Central Scouting's midterm ranking list of 2014 NHL Entry Draft eligible prospects among North American-based skaters. Letunov is 68th and Piccnich is 164th on the new list.
"Both have moved their stock up," Noreen said. "They both are having impressive years."
Connor leads the Phantoms with 39 points (16 goals). Next are Piccinich with 33 points (19 goals) and Letunov with 27 points (13 goals).
On Thursday, defenseman Steven Ruggiero, 17, committed to play for Penn State.
"[Penn State is] a good fit for me academically, and the hockey down the road is only going to get better in the Big Ten," the first-year Phantoms defenseman said.
This is Penn State's second season in NCAA Division I hockey.